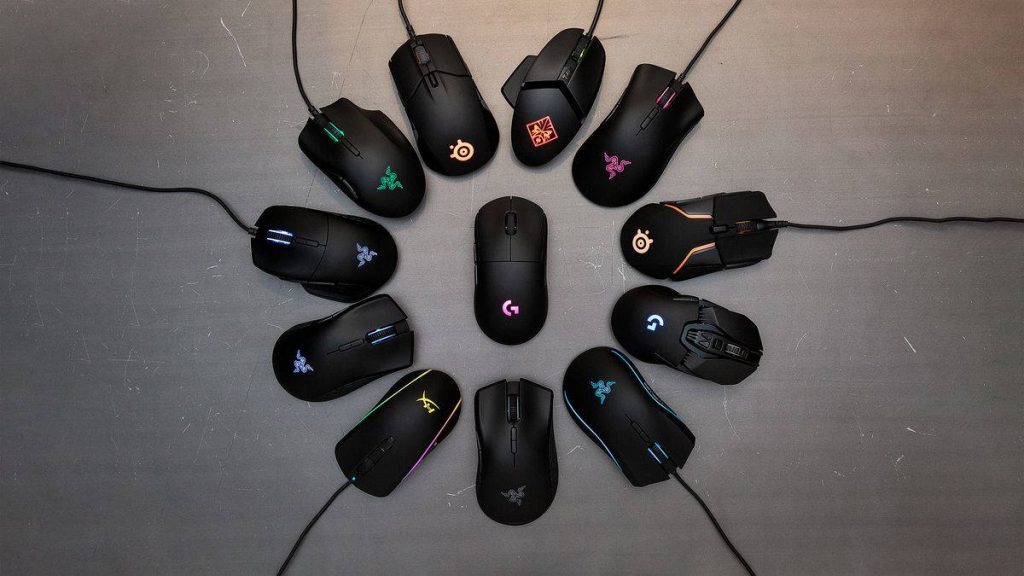 Unfortunately, as we all know, the world of gaming peripherals is not exactly cheap. If you want to be up to date and have the best components, you will have to pay both the cost and the name of the brand, but do not be discouraged yet. Today we will collect each Gaming mouse and assemble a top 5 among these devices that offer great benefits for a very modest price.
If it's any consolation, gaming products have a pretty acceptable price if we put them in perspective with other mastodons of technology. For example, products focused on Audio or professional use (Nvidia Quadro, mixing consoles …) can have price quantities in the order of thousands or even more.
This is why we say that gaming peripherals, with their pluses and minuses, are mostly high-quality products. They are engineering works for offering good quality in a device of such a specific size and increasingly smaller and, most importantly, in such a tight price range.
But let's not go around the bush. Without further delay, dive into the world of gaming and investigate the best devices for friendly prices.
What to expect from a modest Gaming Mouse?
If you are looking for a gaming mouse, you must know that you are getting into a leafy and dangerous jungle of prices. On the one hand, we have devices valued at just a dozen euros. On the other hand, some of the most expensive can reach figures close to €200.
In the price range of €50 begin to highlight certain mice, however, do not exceed the threshold of quality to be a flagship. These devices are pieces of engineering very well designed to take advantage of every euro invested and, surely, will not leave anybody dissatisfied.
In the list that we present today, we will see a series of mice with a modest price that, to maximize their costs, have cut some section of the final product. It is for this reason that we have not introduced some devices on the top. A very inferior sensor, a badly designed body or poor quality materials can be a disastrous experience for any user that we can not recommend.
If you are interested in mice by more generous price ranges we recommend you read our guide of the best gaming mice, where we list the best gaming mice on the market.
Key points
At the time of classifying these mice, we have noticed several aspects of each device that entered the game. According to how much quality they offered in each of these sections we assigned different scores, ending with this final podium.
First, we look at the mouse sensor. As we all know, the core of the mouse is the sensor, components that describe the position of the pointer at all times. To determine which devices should enter we had to select only the mice with the best sensors or close to be the best.
On the other hand, the quality of construction has been vital to select the last finalists of the top. For this price, we have enough mice with the PMW 3360 sensor and its derivatives. The problem is that a top with cloned mice whose only difference is a button or a more inclined shape would not be interesting.
In this section, we have looked at the quality of construction of each gaming mouse and we have valued them for their shape, design and unique characteristics. There are mice with very competent specifications that, however, they can play safely in the design section.
Finally, among the most important points to see we have taken into account any functionality, feature or unique detail offered by the product. If it's wireless if it has more buttons or more rubber than the competition …
We would mention the price as a relevant point, but in order to get the best below this price, we have to go and rummage around the edge. But we will suffer from lower quality sensors, regulators materials and other problems related to low budgets.
5) Newskill EOS 
Weight: 135g
Hand size: medium
Grip: claw-grip / fingertip-grip
Programmable Buttons: 7
Sensor: PMW 3360
DPI range: 200 – 16,000
Wireless: No
Extras: ambidextrous design, hardened ergonomic rubber, great RGB lighting
Among the Spanish brands, here we have a gaming mouse from the growing NewSkill. The gaming mouse that the Spanish brand bets on is the Newskill Eos, a mouse that, like its brothers, owes its name to a deity.
Of the five main mice that distribute, only two of them mount sensors of the last generation, being the Eos the one that stands out more for its design. This is why we choose since it seems to us a work of engineering in every rule.
Design and precision
The brand offers us an excellent device with a very balanced body and with a sensor of great quality, the legendary PMW 3360.
Newskill affirms it with finality, the form of the Eos was "… specifically designed to favour the grip in the form of claw". With the claw-grip in mind, they have turned this mouse into an excellent choice for gamers and professionals. In addition, we do not rule out that its size can also be used with fingertip-grip.
Also, the side grips are quite nice with patterns that help the grip. These are accompanied by a full LED arc, plus a couple more in the front, which pretty embellishes the device.
A few grams more
As usual, heavy mice are a risk that users should know. The weight of the Newskill Eos rubs the excessive, but it is not worrisome. It is a question that we do not understand since to have such a balanced body, it has a weight of past generations.
Related to weight, the mouse lacks any weight regulation. In the first instance, we thought that his 135g would be real with some set of weights installed, but it is not like that. Perhaps it is not so necessary since it is already quite high, but you never know when a user can love heavy mice.
4) Logitech G305
Weight: 72.6g + 23g (for each pile)
Hand size: medium
Grip: claw-grip / fingertip-grip
Programmable Buttons: 6
Sensor: Logitech Hero
DPI range: 100 – 12,000
Wireless: Yes (approx 250h / battery)
Extras: Ambidextrous design, sensor and latest generation wireless technologies, excellent durability.
Hand in hand with the pioneer company in wireless gaming peripherals we have the Logitech G305, a cheap, wireless gaming mouse with an unbeatable sensor. This mouse slightly breaks the rules, but we want to put it in the top as an exception (they are only a few cents!).
We recommend you read our review of the Logitech G305
It should be noted that the mouse is in a kind of perpetual offer slightly exceeding € 50, but we do not know at what time it could return to its original price of € 62.
We recommend reading our article about Logitech wireless mice
This gaming mouse is probably the one with the best specifications, however, it is not the one that is higher in the top. The reasons for this position are the following:
"Towards the world without cables"
Logitech has already taken several steps towards wireless devices and the G305 is one of the latest iterations of this line. Preceded by the original Logitech G Pro and the G203 Prodigy, this version shares its same body, but it comes off the ropes.
The strongest point we have is the Hero sensor, which is tremendously efficient as well as efficient. Also, the wireless being makes it perfect both for comfortable playing and for use as an office mouse. The most natural type of grip for this mouse is the claw-grip, leaving a small window for fingertip-grip users.
In addition, the battery is very durable, lasting up to 250 hours per battery. The weight, on the other hand, is very good, so we can take it anywhere with us. Although with two batteries reaches almost 120g, we can use it with a single battery.
Reduced format
We believe that the weakest point of the Logitech G305 is its peculiar shape and its construction materials. A small body and materials not very successful, in our opinion, for any type of grip. Through the network, we have been able to read the discontent of some users when reporting an uncomfortable and sliding grip.
We think that the mouse should comply a little more with the standard measures to please more users and use a rougher material or even mark the sides to improve the grip.
On the other hand, a series of small details that slightly affect the user experience. The implementation of batteries instead of batteries does not seem like a good decision. Changing batteries adds an extra problem, in addition to weakening the robustness of the case and losing, consequently, the RGB, that we never see, but we miss if we do not have it.
And it really seems like a strange decision, because, if the idea were to give batteries to make it more versatile, why not add features such as those present in the G603? This second Logitech gaming mouse offers many extra features such as connection via Bluetooth or the sensor in low-frequency mode. However, the G305 does not seem to have a design adapted for gaming, nor a structure designed to be versatile.
3)

 Logitech G403
Weight: 90.7g
Hand size: medium
Grip: claw-grip / fingertip-grip
Programmable Buttons: 6
Sensor: PMW 3366
DPI range: 100 – 12,000
Wireless: No (wireless version exists)
Extras: elegant and sober design, good RGB lighting, good grip in claw-grip or fingertip-grip
Thanks to the offers, the MVP of past generations has graced us with his presence. The Logitech G403 is the mouse that established elegant and ultra-precise designs for the company. Along with its wireless version, (which today has been replaced by the G703 ) this mouse is the delight of users with medium hands and fingertips.
We recommend you read our review of the Logitech G403
The actual price of the product in Amazon is around € 72, however, the mouse is usually always lowered. Possibly, this is due to the release of new and better mice to stimulate the purchase of old ones. Currently, its value is around € 49.
Balance, precision
We have already mentioned many other times, the Logitech G403 is a mouse often. It has an incredible shape for right-handers, with a sufficient number of keys and with a precision envied by the mice of its time.
Although today and its characteristics have been reached or even exceeded, what only a few years ago was the best, today is still excellent. Its body adapts well to the hand and is pleasant to grasp with fingertip-grip or claw-grip.
In addition, its simple design and not so Gothic we like a lot, offering an alternative to users who want to use high-quality wireless mice without having to show off the aggressive gamers designs.
The sensor is the PMW 3366, the Logitech variant of the PMW 3360, and offers a great experience for competitive games. It works well on almost every type of surface and many professionals use it or have used it, as we can see among the Overwatch players.
The dark side
In general, we can not elicit many failures to this gaming mouse, since it seems quite balanced in almost all aspects.
Similar to what we have said with the Logitech G305, the sides are made of a strange plastic material. It's not bad, it does as it can with its work, but maybe it's not the best solution for this task.
On the other hand, the mouse only offers a 10g weight as an option to customize the weight, which seems too little. The weight of the normal mouse is 90g, approximately, so it has a great weight, but there are users who like heavy mice or, simply, to have more precision when moving it.
2) SteelSeries Rival 310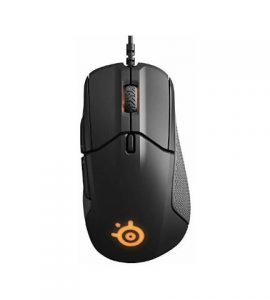 Weight: 86.2g
Hand size: large
Grip: palm-grip / claw-grip
Programmable Buttons: 6
Sensor: TrueMove3
DPI range: 100 – 12,000
Wireless: No
Extras: design dedicated to palm-grip, mouse for big hands, specialized mouse for right-handers, hardened rubber ergonomics, good RGB lighting
The Rival 310, is the gaming mouse of SteelSeries of the previous generation. We have already reviewed several devices that have belonged to the highest of past generations because, after the new releases, prices always fall.
Big palm-God
The SteelSeries brand has among its lines enough mice designed for a group of people: users with large hands. The mice of the brand usually have a considerable size and focused mainly on the palm-grip, so they have enough experience in the field.
This mouse captures everything that the company has learned and gives us an unbeatable sensation when grabbing it. So much so, that the next iteration of SteelSeries (Rival 600, Rival 650 and Rival 710) have an identical body, with some small differences to be more modular.
Another very positive point is the lateral grips, which improve the stability and precision enough. Also, the device feels compact, despite the fact that the keys are now separated from the body (compared to the Rival 300 ).
Best of all, however, is weight. We find it incredible that a mouse of this size has such a small weight. This feature will help us to better spend long sessions of work or play.
The specialization
Everything that pleases us from the previous point about the body can play against us. If you are a user with a palm grip and your hand is medium-large (+ 18'5cm), the Rival 310 is a no-fault choice. However, if you do not meet these conditions, this gaming mouse should not be among your options.
It is possible that the claw-grip is moderately comfortable too, but with its body quite elongated, we can not assure it. Definitely, as you will suppose, the fingertip-grip is a very bad grip for this mouse, which can generate discomfort or even pain.
We do not know exactly why, but this gaming mouse does not give us the option to customize a bit the weight with which we play. Its 86 grams is an enviable figure, but we believe that a set of two or three weights would be great for those users who like heavy mice.
Read More: Huawei Proposes US Sanctions are no Major Ordeal, as its 'Core Technologies' Stay Intact
Honourable Mentions
In this position, we will mention some mice that have not been able to reach the top. The reasons can be very varied: from exceeding the price limit, having a critical point or even not reaching an acceptable balance of quality/price.
However, if you are more flexible with the price or looking for a specific feature you could consider buying some of these gaming mice.
Razer Basilisk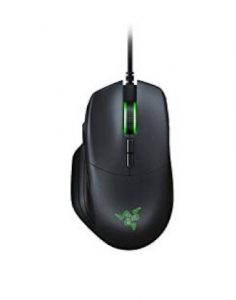 Weight: 109g
Hand size: medium-large
Grip: palm-grip
Programmable Buttons: 8
Sensor: Advanced Optical Sensor 5G
DPI range: 100 – 16,000
Wireless: No
Extras: dedicated palm-grip design, specialized right-handed mouse, ergonomic hardened rubber, good RGB lighting
We recommend you read our review of the Razer Basilisk
Already in our top 5 Razer gaming mice, we put it in a rather high position, since the Razer Basilisk gives us the best of the brand, for a very low price. With its latest generation sensor and its shape designed for palm-grip, this device gives us an excellent gaming experience. The weight of the mouse is acceptable and highlights the rubber grip on your left.
In addition, as a differentiating feature has a button on the left side of temporary use. It is designed to temporarily change the DPI in professional shooters since it will only work while we leave it pressed.
It does not reach the top because its price exceeds by a little the proposed limit. In addition, it suffers from the same tessitura as other top devices. It is for an approximate price of € 55 because it is in an apparently perennial offer, but we do not know when it could return to its original price.
Corsair Harpoon RGB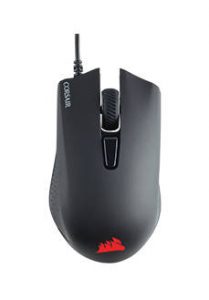 Weight: 86.2g
Hand size: medium-large
Grip: claw-grip
Programmable Buttons: 6
Sensor: PMW 3320
DPI Range: 100 – 6,000
Wireless: No (wireless version exists)
Extras: dedicated palm-grip design, specialized right-handed mouse, hardened ergonomic rubber, good RGB lighting.
We recommend you read our review of the Corsair Harpoon RGB
The Corsair Harpoon RGB is a very good gaming mouse. We like its minimalist and elegant design and it offers us a good demonstration of strength for the reduced price it has.
The materials of the mouse are excellent, from the rubber of the body to the rubber grips that facilitate the grip very well. The way of grabbing the mouse, for its measures, is more focused on claw-grip, although we do not rule out a pleasant use with fingertip-grip.
It should be noted that there is a wireless version of the Corsair Harpoon RGB. It shares the same body, but it has a superior sensor. In return, it also costs twice as much as his brother with wires.
We could not include it in the top because the specifications of this version do not reach its contenders, which, for a little more price, offer better results.
1) HyperX PulseFire FPS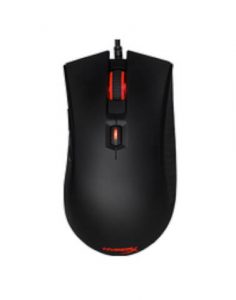 Weight: 90.7g
Hand size: medium-large
Grip: palm-grip
Programmable Buttons: 6
Sensor: PMW 3389
DPI range: 200 – 16,000
Wireless: No
Extras: good RGB lighting, a body designed for palm-grip
The last mouse that we will see today and that holds the first place is the gaming mouse of the Kingston HyperX brand, the PulseFire FPS.
We have a review of the device, but of the version that mounts a lower sensor. He recently received an update where he installed the PMW 3389 sensor, so his tracking quality has improved.
One of the things that we have set to place this mouse here is its price since we thought it was relevant that the best mouse on the top was really a mouse under € 50.
Improved and crowned
As we noted in the review, the HyperX PulseFire is an excellent mouse even with its old sensor. It is a balanced, simple mouse with a good body. Peculiarly, now that it has received the sensor PMW 3389 we think to notice some similarities more with the body of the Razer DeathAdder, but to the Caesar what is of the Caesar.
We want to mention that the previous sensor was already good in itself, as we pointed out in the review, but the update has only made it better. HyperX has buried one of its mediocrities at the same time that it has given the mouse a new weapon with which to compete.
Its shape benefits the right-handed players and the curve it has indicates that it is a mouse designed mainly for palm-grip. We think that this mouse will not be nice if you belong to any of the other groups, so I would look for an alternative from the top.
On the sides, we have good quality grips. They are resistant, pleasant and, most importantly, it is impossible for you to slide the mouse with them.
Another generation gaming mouse
As negative sections, we want to emphasize that the auxiliary central button only serves to change the DPI, so we can not customize it.
On the other hand, despite the fact that the sensor has changed, we have no news about the switches on the keys and maybe it is something relevant.
In the previous version, we had guaranteed a respectable 20 million pulses, however, for the current standard that is somewhat low. The current average is 50 million and some devices like the Razer say reach up to 80, so it is a standard that has been over-passed.
Final ideas about mice
As you can see, we have brought to light a series of high-quality devices for a price that is not so far from the pocket of the average gamer.
While the industry's flagships are better in some sections, it would not be an easy fight if we compared them one by one.  Gaming mice have evolved rapidly in recent years, but there are still many alternatives that are becoming more affordable.
Regarding which to choose, I will comment on my ideas according to the type of grip you have:
If you are a palm-grip user, I would clearly opt for the HyperX PulseFire, for all its advantages and the few failures it has. It is a balanced mouse in almost every aspect that we can find. On the other hand, if your hand is slightly larger than the average, the SteelSeries is a good alternative.
If you are a claw-gripper, the NewSkill Eos is probably one of your best options. If above you are looking for versatility, the G305 will offer you the benefits of the wireless world at a very good price. It suffers a bit the drag of dragging several small faults, but if you do not care much (such as lateral grip or the absence of RGB ) is a mouse that you will enjoy a lot.
As I have recommended other times, if you are a user based on the fingertip-grip, betting on the Logitech G403 is something you can not go wrong with. Personally, I have this mouse being fingertip-gripper and the experience is exquisite. There is a wireless version under the name of Logitech G703, although it is more expensive, obviously.
Each gaming mouse on this list is a device that we can not underestimate. They are great works of engineering that put the limits of the hardware to the limit for the adjusted price they have.
We thought it important to cover this range of devices because they seem interesting and, above all, attractive to many of you.
If you liked it or you have served the top to clarify your ideas, please tell us here below. Will you buy one from the list or will you go for other devices?