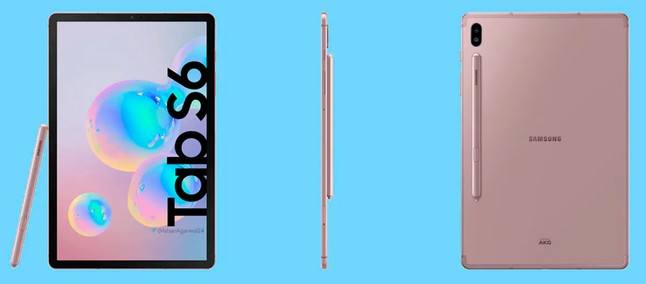 A few hours before the official launch, the Samsung Galaxy Tab S6 tablet appeared in a rendering giving signs of how and where the South Korean manufacturer will install the device's digital bed, which will be installed under the screen. The new image was unveiled by the famous @evleaks cast on his Twitter profile, confirming early July rumors.
Galaxy Tab S6 may be the first tablet with a digital player under the display
Apparently, we are getting closer to the launch of the Galaxy Tab S6. That's because a lot of information about Samsung's new tablet is leaking on the web. Yesterday (9), we showed the first photos of the device that proved that it has two rear cameras.
Now folks at 91Mobiles have gathered new information about Samsung's tablet from some sources. The first major highlight is that this may be the first device in its class to feature an on-screen fingerprint reader.
This can be one of the most important features of the device and at the same time should increase user comfort. This is because many complained that it is difficult to reach the fingerprint reader on the side of such a large tablet.
As we commented earlier, the Galaxy Tab S6 should bring two rear cameras. However, the resolution of the sensors was still a big unknown, but this is something that is being resolved now.
According to a new rumor, Samsung is to insert a 13 MP main sensor along with a 5 MP wide-angle lens. This should allow the tablet to capture good panoramic photos, and the same cannot be said of the 8 MP front camera only.
Recommended: Motorola One Action comes in white and blue with three cameras days before launch
Finally, new sources have confirmed that the Galaxy Tab S6 should be announced with a 10.5-inch Super AMOLED display, Snapdragon 855 processor, 6 GB of RAM and 128 GB or 256 GB of internal storage. In addition, the tablet must support memory expansion and bring a "completely renewed" S Pen.
Source: www.phonearena.com