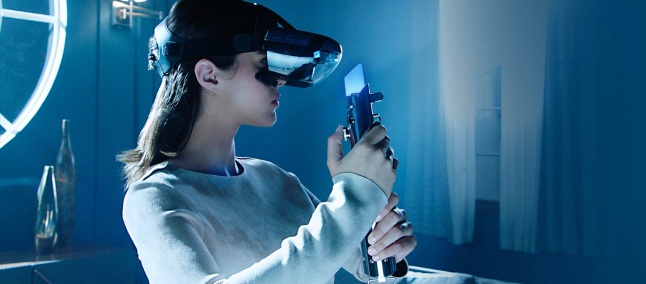 It seems that Star Wars fans will finally be able to realize the dream of interacting with holographic images and living the adventures in the skin of a Jedi – or almost. Lenovo and Lucasfilm have published a teaser showing a headset that uses a smartphone to take the public to the franchise universe in a game called Jedi Challenges .
Sounds like a good idea. After all, the original Star Wars trilogy was one of the main responsible for popularizing the idea of ​​holograms, thanks to scenes like the one that the message of the Princess Leia to Obi Wan displayed, through the robot R2D2. And if there is a "place" where such holograms can be reproduced without the difficulties of the physics of our world, this place is virtual reality.
In addition, there are countless things in Star Wars that all fans would love to use but can only be brought to reality with VR. For example, a lightsaber. And that's exactly what this teaser shows.
https://youtu.be/KDC7uAkWv_M
There is still very little to know about hardware, and we do not even have a release date, but we already know a little about the games we can play. Lenovo and Disney are showing a bit of "holochess" to start creating good expectations, but there is also a real-time battle game and Jedi Challenges. Of course, we will need a lightsaber, where once again the magic of virtual reality comes into play.
In short, fans will soon have many Star Wars costumes made.
Also See:Evil Within 2 and Wolfenstein II: The New Colossus will shoot in 4K HDR on Xbox One X
To watch more exciting News and Games please visit our website Techwikies .