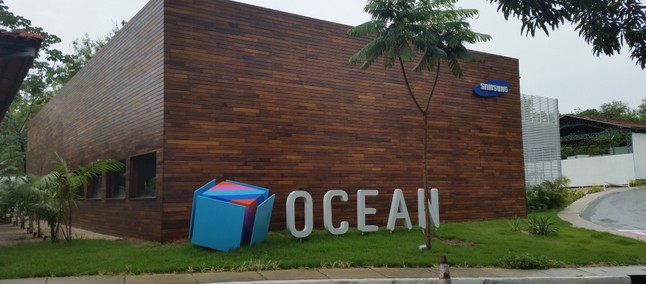 The pandemic times of the new coronavirus have caused several companies to adapt their routines, and many have offered online improvement courses, free of charge.
Samsung adapted its Ocean project, based in São Paulo, which now distributes, monthly, free classes with training focused on the technology market. The June agenda is full of news, whose registration opens tomorrow (04) through the official website of the project and also through the Samsung Ocean app, available on the Play Store.
The great news of this new wave of online courses in the presence of practical workshops for creating 3D games and developing applications for Android. These activities start in the second half of June, with more introductory modules, and are going deeper each week.
Android content should continue until the end of next month and involves web services, databases, GPS, and other useful tools in software development.
Our idea from the beginning was to gradually move forward with online courses, deepening themes with each wave and, afterwards, offering workshops with more practical activities to reinforce the learning of theoretical contents "- Eduardo Conejo, Senior Innovation Manager in the Research area and Samsung Development.
Recommended: Accused of plagiarism, Microsoft announces that it will give credit to AppGet developer
Check the full schedule of courses, workshops, and lectures at the Samsung Ocean for June.
Full schedule
4/6 – 19h Data Science Applied to the Public Sector

9/6 – 19h Opening doors, paths, and horizons with open data

10/6 – 17h Virtual Voice Assistant in Bixby – Bringing Intelligence to the Interface

6/15 – 11 am Programming for beginners (Session 1): Getting to know Scratch

6/15 – 5:00 pm 2D Games Workshop (Solving Questions)

6/15 – 7:00 PM Introduction to Android Application Development (Session Questions)

6/16 – 5:00 pm 2D Games Workshop (Session 1): Introduction to Unity

6/16 – 7 pm Introduction to Android Application Development (Session 01)

17/6 – 11h Programming for beginners (Session 2): Learning to program

6/17 – 5:00 pm 2D Games Workshop (Solving Questions)

6/17 – 7 pm Introduction to Android Application Development (Session 02)

6/18 – 5:00 pm 2D Games Workshop (Session 2): User Interface

6/18 – 7:30 pm Programming Support Tools for Blockchain

6/18 – 8 pm Using Social Media Data for Urban Analysis

6/19 – 11 am Programming for beginners (Session 3): Solving challenges

6/22 – 3 pm Introduction to Data Science: A Visual Approach with Orange Canvas (Ambientation Session)

6/22 – 5 pm Fundamentals of Industry 4.0

6/22 – 7:00 PM Android CodeLab for Web Services (Session 01)

6/23 – 2 pm Using digital environments to create products, services, and enterprises

6/23 – 6 pm Usability Workshop

6/24 – 3 pm Introduction to Data Science: A Visual Approach with Orange Canvas (Session 01)

6/24 – 7:00 PM Android CodeLab for Web Services (Session 02)

6/24 – 8 pm Ocean Startup Talk – "Investment possibilities for Startups"

6/25 – 5:30 pm Introduction to Time Series Forecasting

6/25 – 7:30 pm Programming Support Tools for Blockchain (Question Session)

6/26 – 3 pm Introduction to Data Science: A Visual Approach with Orange Canvas (Session 02)

6/29 – 7:00 PM Android CodeLab Database (Session 1)

6/30 – 5:00 pm Virtual Voice Assistant in Bixby – Bringing Intelligence to the Interface

6/30 – 7:30 pm Programming an application for Blockchain