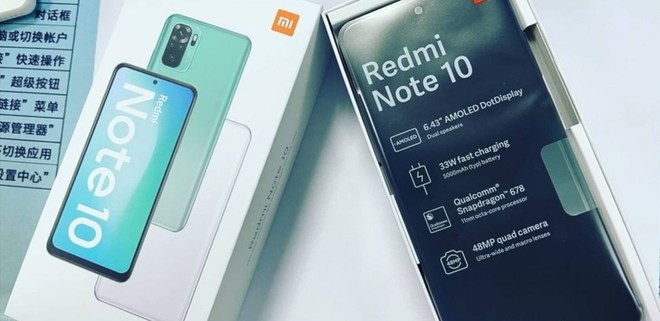 After the Redmi Note, 10 models had its retail box leaked together with the main specifications, now it is time for the Redmi Note 10 Pro variant. That's because Indian sources used Twitter to publish real images of the device's packaging.
As in the case of its simpler brother, the plastic film covering the screen of the Redmi Note 10 confirmed that this model has a 6.53-inch AMOLED screen with FHD + resolution. In addition, the device features a Snapdragon 732G processor, which should work with 6 GB or 8 GB of RAM.
Finally, the packaging also mentions the 5,000 mAh battery with support for 30W fast charging. However, there is no detail when it comes to the rear cameras. So, we don't know if the main lens is 64 MP or 108 MP. See the photo below:
Another detail that draws attention in this leak is that everything indicates that this model is the Redmi Note 10 Pro 4G. Thus, there are chances that the 5G variant will be made official with a completely different processor.
For now, Xiaomi has not yet commented on the leak. Even so, the official launch of the Redmi Note 10 line should happen on Thursday (4), and the official price of the Note 10 Pro has already leaked.
With an official launch confirmed to happen this Thursday, the Redmi Note 10 line continues to be the target of several rumors and leaks. Recently, we saw that some hands-on photos confirmed the presence of an AMOLED screen and 128 GB of internal storage.
Now, while a large part of the public eagerly awaits the Xiaomi event, behold, new real photos of the Note 10 have been published on social networks. This time, the images show the smartphone's case and confirm that the device will be powered by the Snapdragon 678 processor.
See below that the film that protects the smartphone screen also shows that there is a 6.43-inch AMOLED display :
Another important detail that appears in the film is the confirmation of a battery with a capacity of 5,000 mAh with support for fast charging of 33W.
The image also makes it clear that the Redmi Note 10 will have stereo sound. Thus, the bottom speaker must gain the reinforcement of the audio output for calls.
The box of the device also bears the rear design of the device. Check it out below:
For now, the manufacturer has not yet officially commented on the leak. Anyway, there is very little to know all the details of the new intermediaries, and the price remains the most awaited information.
Recommended: Instagram tests new way to hide likes, but bug brings unexpected problem
Looking forward to the Redmi Note 10 line? Tell us your expectations here in the comments.
Source: gizmochina