For now, the only confirmed versions are PS4 and Xbox One.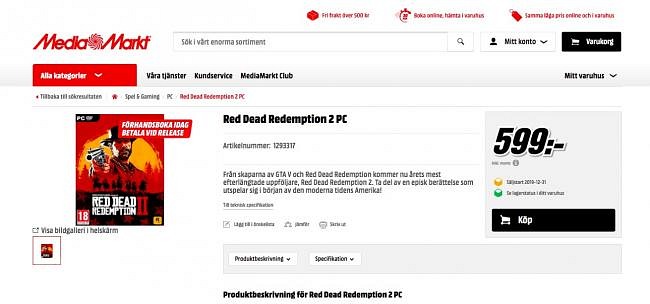 The Media Markt online store in Sweden has recently signed an unconfirmed version of Red Dead Redemption 2: PC. The file indicates that its launch would take place on December 31, 2019, a provisional date that establishments usually place when they do not have exact confirmation of the day on which the product is officially put on sale.
It is well known that many establishments have filtered products in the past. Many will remember the massive filtering of Walmart before E3 , for example. However, before celebrating anything, we must also consider the possibility that a simple error is involved and that it does not reflect the real knowledge that the store has about the releases of Red Dead Redemption 2.
For now, the only thing we know for sure is that Red Dead Redemption 2 will arrive on October 26 on PS4 and Xbox One. Rockstar has not yet wanted to talk about other possible versions, although the résumé of a former worker mentions RDR 2 for PC.
Also See:The Black Market Returns to Call of Duty Black Ops 4 on PS4
See More At TechWikies.