In addition to its main series, called Moto, Motorola also started developing a secondary line called One, of devices that are part of the program Android One. These devices are guaranteed update for two major new versions of the system and one-year extra security package.
Last year, we met the Motorola One and Motorola One Power. A few weeks ago, we saw the launch of the Motorola One Vision, and it seems that it will be accompanied by a few more brothers. 
A few months ago, we saw a rumour coming from the famous leaker Evan Blass, known on Twitter as @evleaks, indicating that the American company would be developing two devices, being One Vision, recently officiated and One Action. However, a new tweet of his own indicates that another device is in the plans, and it would be called the Motorola One Pro. Check out: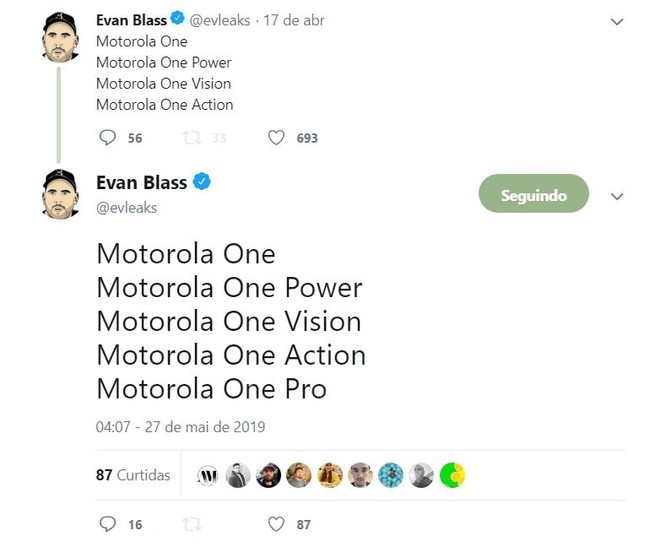 Unfortunately, Blass did not give any other information about the model, just throwing into the air its existence. Thinking only of their names, it may be that the Motorola One Action is a smartphone that has a little more resistance, such as Samsung's Xcover.
On the other hand, in the case of Pro, it would be the model of the family more powerful and sophisticated, as well as other manufacturers of the market that make use of this name. In any case, there is no date yet for the two other handsets to be launched by the brand. So all we have left is to wait for new rumours and leaks, or for an event announcing the duo.
And so, dear reader, do you think this expansion of the Motorola One series can be effective? Looking forward to a pro model of the line? Say it in the comments.