New features are due this Fall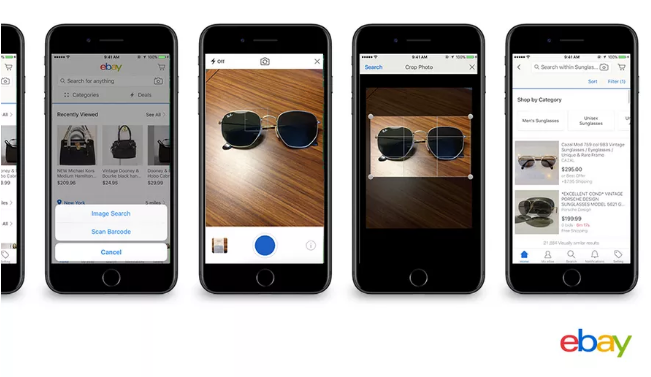 eBay is introducing two new features for its mobile apps that use image matching to help customers search for products they might not be able to describe. The Image Search feature lets users shop by uploading a photo onto the app's search bar. The Find It On eBay feature allows shoppers on any social media platform or website to share an image they like with eBay, which will then spit out listings matching the product.
Both features are due this fall. eBay says at the time of launch, Image Search will be supported on both Android and iOS, while Find It On eBay will only be for Android devices — at least initially.
"eBay is at a technological advantage due to the rich set of user-generated images and item data we've accumulated through the years," said Mohan Patt, vice president of buyer experience at eBay in a statement. "By applying machine learning technology, eBay can deliver a fast and reliable shopping experience backed by one of the world's largest commerce data sets,"
eBay says it has a catalog of around 1.1 billion items listed at any given time and will leverage the latest advances in AI, including computer vision and deep learning, to enable the new features.
"We use a deep learning model called a convolutional neural network to process the images," eBay said in a blog post. "The output of the model gives us a representation of the image that we can use to compare to the images of the live listings on eBay. Then, we rank the items based on visual similarity and use our open-source Kubernetes platform to quickly bring these results to you."
The move makes a lot of sense for eBay as image-based searching becomes more and more prevalent as demonstrated by products like Pinterest, Google Assistant, and others. Image-based shopping has been a mixed bag in the past, though. Samsung's Bixby has shown limited utility in our testing, unable to recognize a common light bulb, for example.
Will eBay live up to expectations shown in the video above? Doubtful, but we'll know for sure in a few months.
Also See :Twitter stalls, fails to add new users this quarter
See More At TechLinkn.