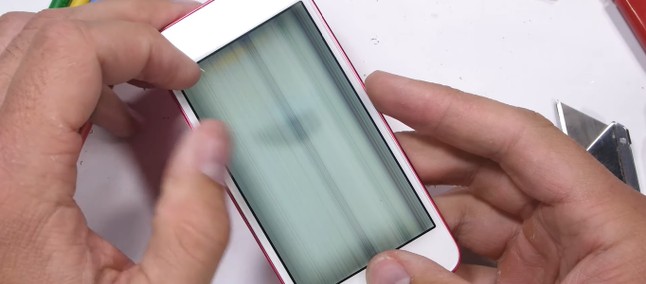 Released at the end of May, the new iPod Touch bet on a number of internal improvements over previous generations, but with a similar look to old iPhones. To find out if it's sturdy, the device has gone through a JerryRigEverything durability test on YouTube.
The Apple device has undergone experiments with scratches, fire on the screen and curvature. You can check the results on the player below:
Scratches and fire
In the scratch test, the iPod Touch behaved without news regarding other devices. He presented scratches on the screen from the level 6 hardness of the tool and had his entire body of metal stripped.
When lighting a cigarette lighter in front of the display, it took about 12 seconds until the pixels started to burn and a black spot appeared. However, because it is an LCD panel, the screen is completely recovered then without leaving any permanent damage.
Curvature
In the last experiment, the Apple device was bent to see if it would crack in half. However, on the first try, your screen was damaged and only displayed a predominantly white screen fixedly.
Recommended: New version of New Launcher improves night mode for smartphones with AMOLED screen
The power button also stopped working, which prevented you from turning the power off and attempting to clear the display. On the other hand, the body – though easily folded – did not crack completely.
Source: www.youtube.com