We analyzed Western Digital's 240GB WD Green SSD, check out the performance improvement over an HD.
For those who do not believe and think it's history, well, our editing computer was actually slow, despite running an Intel Core i7 7700 CPU, a recent generation still, it always gargalva in the exchange of files. There were two 500GB and 1TB HDDs installed.
In that period when we were just thinking about getting an SSD to install on the computer, Western Digital contacted us, asking if there was interest in analyzing the 240GB WD Green SSD. Do you know when you hunger with the urge to eat? That is what happened.
We received the SSD, ran some benchmark applications before installing it, monitored the opening time of Windows 10, Premiere and a few more applications. I turned off the main HD, circled the Windows installer, and then started testing with it being the main "disk." In it, will be installed, the operating system and editing software. In 1TB HD video projects, and 500GB HD, just the videos already rendered. In this way, we have been able to use the best performance of the 3 disks, which have different capacities.
240GB SSD is enough for you on a desktop, using another HD to keep files heavier, games and whatever you have to store. Already in notebook, will depend a lot on your need, after all, the vast majority of portable computers offers only a space for disk. If the 240GB is not enough for you, then a 400GB SSD might be the best choice.
SSDs are currently costing an average of $ 1.00 per GB, much more than a year or two ago.
Going back to our performance, it was like switching from water to wine, see the result:
HDD
SSD
Gain
Windows
39s
16s
2.4x
Premiere
91s
13s
7x
Photoshop
25s
4s
6x
Bench Reading
100MB / s
350MB / s
3.5x
Bench Recording
96MB / s
251MB / s
2,6x
As you can see, the performance gain at least doubled in either case. Enhancing that WD Green is not a top-of-the-line SSD, quite the contrary, it's an entry-level option for people who have never had an SSD and want to at least double the performance of the drives without spending too much.
The specifications of the WD Green SSD:
Capacities: 120GB, 240GB and 400GB
Interface: SATA III 6Gb / s
Physical Size: 2.7 "(69.85mm wide, 100.5mm long) with 7mm thick
All sizes are also available in M.2 modules.
WD Green, Blue, Red? What does it mean?
Western Digital (WD), ranks its products in 5 color lines. Currently in Brazil they are commercialized in SSD, Green, Black and Blue.
WD Blue: More traditional unit
WD Green: Drive with lower power consumption
WD Black: This is the highest performance version.
In HDD: There is the RED version that is used with greater load and reliability, main occupation is in servers. A Purple used in surveillance storage (DVR). Also on servers there is WD Gold.
What do you need to know? Green, currently is the most in account, but with lower performance. Even so, it will be at least twice as good as the traditional hard drives that come with PCs and laptops.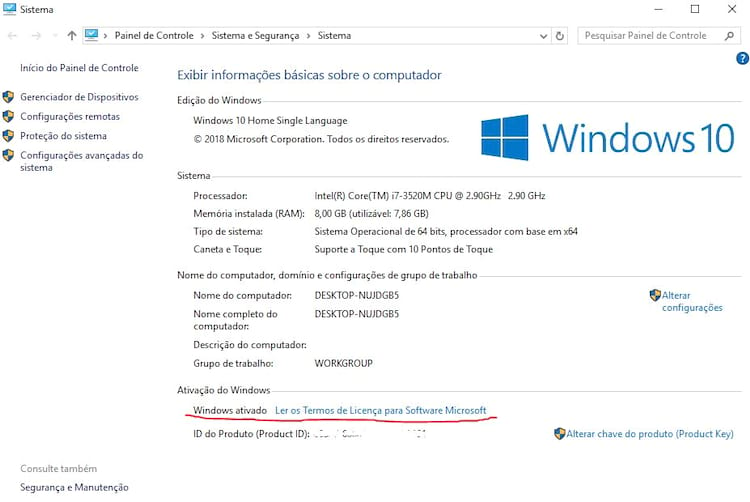 How do I change the HDD over the SSD?
If you are a Windows 10 user, first make sure that the Windows on your computer is active. Press the Windows + Pause Break key. Or, in the start menu, type: System. It will open the basic information screen on the computer.
After you have verified that Windows is active, ensure that it is linked to a Microsoft account, with valid email. This only works if you do not have a product key, if you have the key, simply retype it when prompted to activate the system.
It is important to keep in mind that you need to verify that the account that is logged in to Windows is a Microsoft account with e-mail. Once this is done, you will be able to change the HD from the SSD without fear of losing your system.
Soon after, you need to create a media with Windows 10.
If you believe you are unable to migrate Windows yourself, go to a maintenance store and they will do the service for you. Remember, in notebook, you will lose all your data, after all, will physically remove the hard drive from the computer, so make a backup first of all.
After installing and verifying our improvement on your computer, come back here and thanks in the comments.
Also See:Techland Explains How the Day and Night of Dying Light 2 works
See More At TechWikies.