Check out our list with the prediction for the best games that will be released in 2017
Although the gaming industry is constantly growing, 2016 was a very weak year in the number of relevant game releases, many postponed and even canceled. The year of remastering is already over and 2017 knocks at our door, so it's time to prepare the control, the mouse and the pocket for what's to come.
Everything points to 2017 being a year of incredible launches, with titles already awaited for years and others that can reserve great surprises, so take a look at our list of the best games that are likely to be coming this year. Be sure to comment at the end of the article which game we let pass on this list!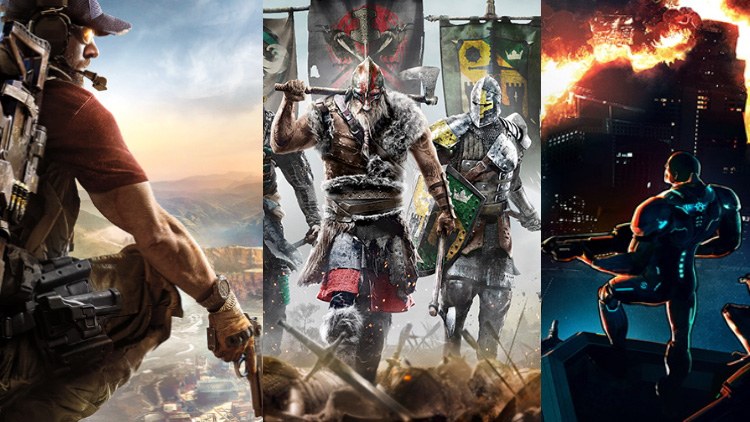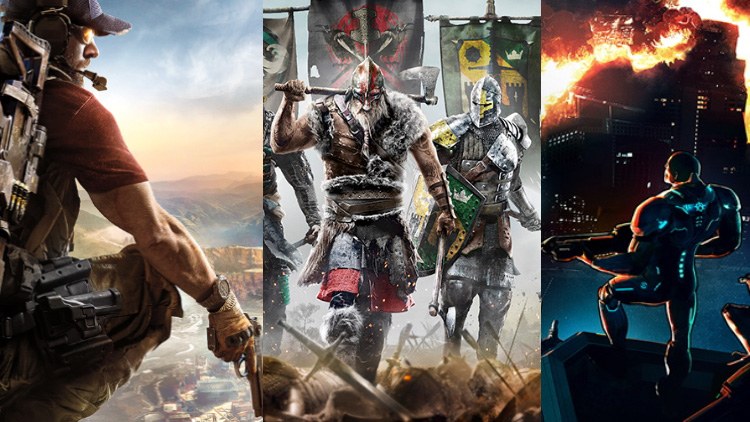 For honor
Medieval knights, samurai, and Viking fighting in battles against each other at the most frenetic pace of a hack and slash, this is the basic definition of For Honor that has already left you wanting to find out more about this game. In addition to the sword fighting system, each character class of each faction will have a special ability and will fight with special weapons, bringing to the game some of the aspects of the main successful multiplayer that we know nowadays. Check out our review of For Honor.
Resident Evil 7: Biohazard
One of the biggest promises the video game industry has ever received, Resident Evil 7: Biohazard is the possibility of a renewal in the RE saga, which will bring back the survival-horror atmosphere of their first games, but in a completely different perspective. How will the game contribute to a continuation of the saga? This you will only discover on January 24, 2017 , when the game will arrive for PC, PS4, and Xbox One .
Scalebound
Presented at E3 of 2014, Scalebound features RPG-style gameplay elements combined with Hack and Slash gameplay and still have the power to give orders to a dragon, it just seems incredible! The little bit that is still known about Scalebound is that the game will try to exploit to the maximum the interaction of the player with his dragon, attaching great importance to the battles against giant monsters, where the player can scale them to cause more damage attacking certain weaknesses. The game will be exclusive for the Xbox One and its release does not have an expected date but arrives in 2017.
Mass Effect: Andromeda
The new game from the acclaimed series Mass Effect is coming in 2017 and with it, humanity will be migrating to the galaxy of Andromeda in the imminence of a war, but of course, this will not be easy. Mass Effect: Andromeda is still a mystery, but its launch forecast is set for the month of March 2017 on the PC, PS4 and Xbox One .
Detroit: Become Human
If you are a fan of Quantic Dream games, research style like the acclaimed Heavy Rain, this is certainly a game made for you. Detroit: Become Human takes place in a futuristic world, in which an android detective has the mission to deal with adverse situations. Each choice of yours can change the outcome of a case, every single detail can save or end a life. Detroit: Become Human is a PlayStation 4 exclusive and does not yet have an exact release date, but is due in 2017.
Days Gone
Days Gone is a long way from being just another zombie game, if that's what you're thinking. The new game from SIE Bend Studio promises to be much closer than it would be to the reality of a world infested by creatures infected by a horrendous virus. The artificial intelligence of the infected that makes them walk in flocks allied to the immersion of an open world promises to bring an experience never before seen in video games. Days Gone is a PlayStation 4 exclusive yet undefined for release.
God of War
One of the most acclaimed sagas in video games history will be getting a reboot in 2017, God of War will now have a theme based on Norse mythology! This time, with a son, Kratos will change his temper strong and angry, trying to pass to the child his teachings while facing the weirdest Nordic creatures. We do not yet have information on when the PlayStation 4 exclusive will be released, but it is scheduled for 2017.
Red Dead Redemption 2
Rockstar is already known to work hard in developing their games, so the delay in announcing a sequel to Red Dead Redemption may have been delayed, but we can be sure it will be as exciting as the first game. Unfortunately, the information on Red Dead Redemption 2 is still scarce, but Rockstar has already confirmed that by November 2017 it will be in the gaming market for Xbox One and PlayStation 4  (and if Santa Rockstar wants, later it will be on the PC as well).
The Legend Of Zelda: Breath Of The Wild
You may not even be a super hardcore gamer on electronic games, but you've certainly heard of The Legend of Zelda, considered one of the best games in history. With The Legend Of Zelda: Breath Of The Wild, Nintendo wants to elevate their fan experience to a level never before imagined by offering a Sandbox game from one of its greatest classics. The game arrives on the Nintendo Wii U and the new Nintendo Switch in 2017, with no exact date for definite release.
Horizon Zero Dawn
Horizon: Zero Dawn is a strong competitor to be on the list of best games of 2017 worldwide, just watch the gameplays and trailers already presented, the game is simply sensational! The beauty of the graphics, the freedom and scope of the setting, and the primitive cybernetic setting are a mesmerizing combination! If you do not already have a PS4, having one will be your priority goal until March 27, 2017, when Horizon: Zero Dawn is released because the game will only be present on the Sony platform.
Origin Promotion Brings Up To 83% Off On Numerous Great Games
So, did you like our list? Many other games could have appeared here, but we have decided to keep a limit of only 10 games so you can tell us which others deserve a place for the comments below.
We remind you that although we list all known release dates on the day this article was written, they will certainly change, however, whenever possible we will update the list so you do not miss a single new game!
Also See:Netflix news and releases of the week (08/21 – 08/27/2017)
See More At TechWikies.