The essential variant of the new Samsung Galaxy S10 series is finally here. More than Samsung's answer to the iPhone XR, this mini flagship has promise. After 48 hours with Samsung Galaxy S10e, I'm here to give you my first impression.
A Compact Flagship:
Samsung Galaxy S10e might be just the smartphone which converts you into Samsung fan. At first glance, it doesn't have the fun factor of bright color variants like canary yellow but the design is premium and craftsmanship impeccable, as you can expect from South Korean manufacturer. Holding the phone what really convinced you, it's compact and light, yet it can be easily gripped.  It sits well in the hand, and unlike most other current flagships, it can be used with one hand seamlessly.
Both the back and front are protected by Gorilla Glass 5, and rear camera protrudes from the frame slightly, and the fingerprint sensor can be found on the side combined with the power button.
A Small and Stunning Display:
Samsung seems to have outdone itself once again. The 5.8-inch Dynamic AMOLED display of Samsung Galaxy S10e is bright, vivid and colorful. It has a 1080*2280 resolution, which results in a great 438 PPI density. The screen also has great viewing angles and shines brightly in any condition.
Fast and Secure:
The fingerprint sensor on the Galaxy S10 has been relocated on the side and merged with the power button and It is fast and reliable. There is another function in it which is Face Unlock. The first impressions are trusted and incredibly fast. The Face trigger option unlocks the phone with face unlock in a moment as you pick up your device and just wave it in front of your face and it unlocks it incredibly fast.
Booming Audio and a Headphone Jack:
Despite its small frame, the Samsung Galaxy S10e packs quite the punch when it comes to sound.  It has two speakers – one located on the bottom next to the charging port and one at the front. This is great for watching videos or playing games. On phones with a single speaker on the bottom of the frame, it's easy to accidentally cover the speaker when holding the device horizontally. No such problems with the S10e and the audio are both powerful and clear.
Performance & Battery:
The Samsung Galaxy S10e has a large 3100mAh battery considering its small size and its performance is really very good. There is nothing for you to worry about it. in terms of speed, it seems to provide more than enough power, it's a speed phone and there are no hiccups.
Another thing which is the new user interface by Samsung One-UI and it is located at the bottom of the screen and easy to use. But it can be operated with one hand without One-UI.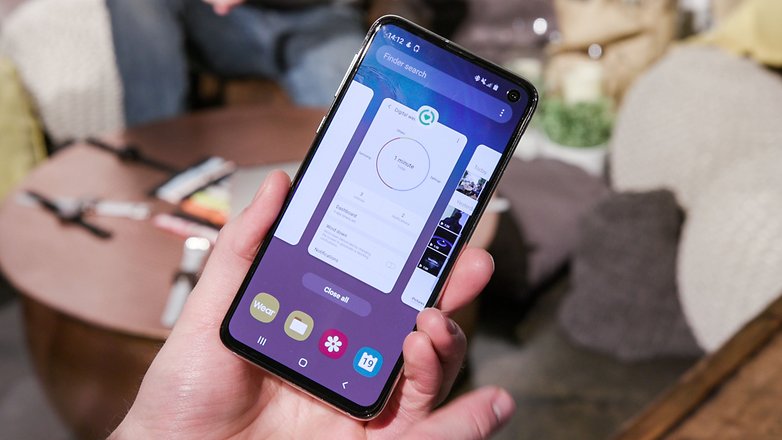 Quality Over Quantity of Camera Phone:
Although it only has a dual rear camera and a single selfie one, the Samsung S10e isn't falling far behind for this from S10 and S10+ but the impression is good in terms of camera performance. Shots are great in any lighting condition, while the camera app is incredibly feature-rich. The dual 12 and 16 MP sensors are more than capable of doing their job. The same goes for the 10 MP selfie camera. Samsung has also integrated the scene optimizer into almost all modes rather than having it as a separate one.
There also are plenty of other features that come quite in handy – you can hold the shutter button for burst shots or to create a gif, you will be notified if there are smudges on the camera, and there's even a food mode that you can enjoy taking pictures of food and it has an amazing result.
Overall First Impressions:
The Samsung Galaxy S10e is not just a cheaper version of the popular S10 flagship – it's a smartphone tailored to the needs of different customers. If you are tired of giant gimmicky phones, the Galaxy S10e offers everything you need in a stylish but compact package.
And although the S10e is already endlessly compared to the iPhone XR, I think it has greater potential. All of the cool little features and conveniences it offers to add up to deliver that true flagship experience, despite the Essential name. after using it you'll look forward to spending more time in this company.
Also Read: Mac overview