If you like retro things and designs based on antiques, we have been trying a Bluetooth keyboard that you will love, as long as you can have the money it costs. The Azio Retro Classic is a mechanical keyboard with a retro design, Bluetooth connection and more.
The first impression of a product is always the box. One usually believes that if the box is displayed informally, or "cheaply", the product is also. Although this is definitely not true for everything, it is nice to see a good presentation; that is the case with the Retro Classic. Since you see the box and start uncovering the product, you fall in love and see the quality of it.
In the box next to the keyboard you will find a USB C cable, extra function keys, the manual and a guarantee card and authenticity of the product with its serial number. The USB C cable is very good quality, wrapped in nylon for added strength and durability. The extra keys may not be important to many, but if you ever want to replace one that looks bad, you'll be grateful. Too bad that only the function keys come, and not the letters.
If you really like things with retro style, you're going to love this keyboard. This model is made of real wood, with metal edges and the centres of the keys in plastic. The keys use the Azio Typelit switch, which makes them high but at the same time easy to type with good response speed even if you are a gamer. Although this has no piece to rest the wrists, at no time I felt any discomfort. Sure, it's only been 2 weeks so time will tell if I'm really comfortable or not. But meanwhile, I'm cheating.
On the back, the keyboard has two buttons that allow you to switch from USB to Bluetooth or turn off completely, and another that allows you to change from PC to Mac. Additionally, if for some reason you want to use it with a tablet or mobile, you can do it. But the truth is that it would be a tremendous waste to acquire this keyboard to use it with a tablet.
The hind legs can be turned, so if you wanted to raise it a little more you could do it. Personally, I found this mechanism much more comfortable and durable than the regular folding that with time, -very little time-, is breaking.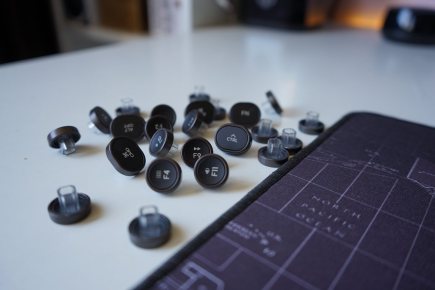 I still can not tell you about the battery, but it has a good prognosis. As I said, I have 2 weeks using this keyboard with the load I was already carrying from the box, and I have not needed to load it yet. I would dare to bet that a month will pass and I will not have charged him yet.
Another extra point is that the keyboard has backlighting on the keys, so you can write without difficulty in low lighting. You can also control the brightness level with an easy combination of keys.
The only thing that could prevent you from acquiring this keyboard if you like the design, is the price. The Retro Classic goes from $ 189 for the USB version and $ 219 for the Bluetooth version. Taking into consideration the prices of this type of keyboards, it is not that far from the competition. Azio also manufactures other types of keyboards and mice in different price ranges. If anyone could be interested you can visit their website and see what else they have.