Version 2.12.0 also offers advanced support for Turing.
Counterfeit graphics cards have been roaming around pages like eBay for a while. Normally it is low-end cards of past generations, such as the GTX 400, which are flashed with retouched BIOS so that when mounting the card in the computer, it recognizes it as a more current model, such as a GTX 1050 Ti, for example. In this way, scammers manage to sell the cards to unsuspecting buyers who can not read between the lines. There are few chips in which it is possible to make this flash, eye. Already only in the case of Nvidia, the list of them is florid: G84, G86, G92, G94, G96, GT215, GT216, GT218, GF108, GF106, GF114, GF116, GF119, and GK106.
The TechPowerUp portal has announced the new version of its graphics card analysis and monitoring utility, GPU-Z, that will now warn us when a graphics card is not what it seems. When that happens, the program will show us a beautiful warning sign. As you can see in the capture above this paragraph, the false name is a GTX 1050 Ti, but-chance-is not such a thing, but possibly a GTX 500. Besides, this update offers the possibility of saving the BIOS to the Turing graphics; new monitoring features, also for those graphics; and energy use statistics. You can download the utility on the official page.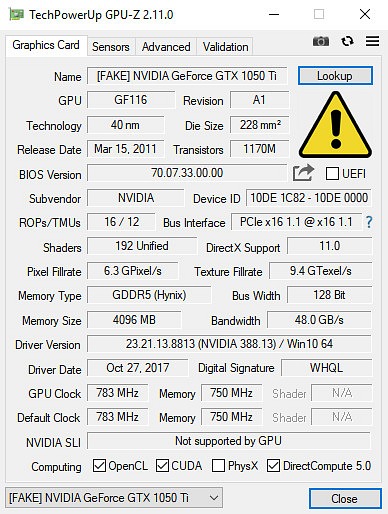 Also See:Know The Size Of Red Dead Redemption 2 on PS4 and Xbox One
See More At TechWikies.