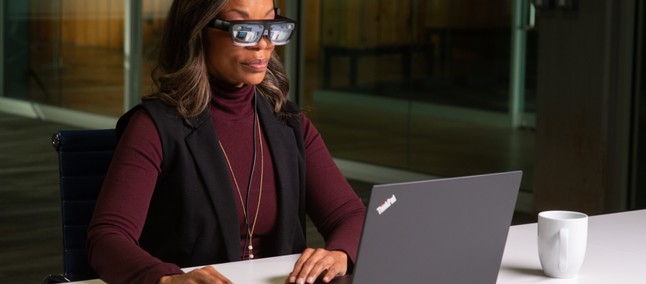 As a warm-up for CES 2021, which takes place as of this Monday (11), Lenovo has announced some of its main news in recent days. The Chinese company updated its IdeaPad line with models that feature AMD, Intel, and Snapdragon chips, unveiled a new Yoga AiO with very robust hardware, and even entered the segment of super portable laptops in partnership with the Japanese NEC.
Following its news, Lenovo has just announced the ThinkReality A3, the newest bet for the Mixed Reality and AR market aimed at companies. Bringing respectable configurations, the glasses stand out for their ability to display up to 5 1080P panels to the user simultaneously, as well as for its much more discreet design than other competitors.
The ThinkReality A3 is launched with the relatively old Snapdragon XR1, Qualcomm's first chip fully dedicated to mixed reality launched in 2018, accompanied by an 8MP camera capable of recording in 1080P and two fisheye lenses dedicated to processing and interpreting the dimensions of the environment. Unlike its predecessor, which resembles traditional VR glasses, the A3 has a shape similar to that of fuller pair of sunglasses.
Lenovo says that this is "one of the most advanced and versatile" smart glasses on the market, and it even allows companies to adapt the shape of the device to meet their needs.
Considered ideal for use anywhere, the ThinkReality A3 requires a connection to a Motorola PC or smartphone with a Snapdragon 800 family, however, connecting to the devices via its USB-C port. The glasses are compatible with Windows applications while requiring the Motorola ThinkReality platform to work on the phone.
Recommended: LG announces concept of transparent OLED TV that wraps around the base of the bed
The Lenovo ThinkReality A3 did not have its price disclosed since it should not be sold to the general public, but it is expected to launch in the middle of 2021, in selected markets.