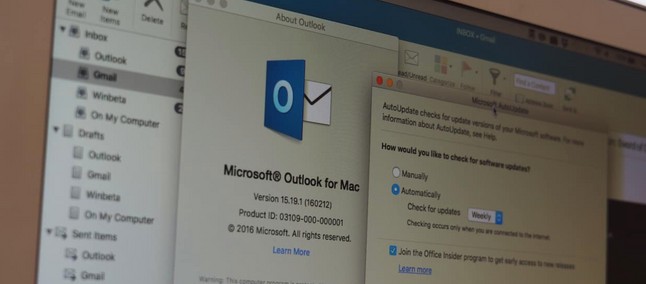 After a long time without relevant updates, Outlook for macOS was finally given an interesting update.
Microsoft, which recently announced new features for its email client, released build 16.38 (20052800) to Insiders that brought several new features and skills, including support for add-ins, privacy tags, people search, calendar improvements, among others. 
Enhance your Inbox
Add-ins – Install and use your favorite add-ins and improve your productivity in Outlook. Add-ins that work with the JavaScript API of Office 1.6 and below are fully supported. We are currently working on API 1.7+ support.
Sensitivity tags – protect sensitive information across the organization. Classify messages based on their confidentiality and sensitivity to ensure that those viewing your email understand how they should handle the information included.
What's new – Stay up to date on Outlook's new features and capabilities and try it for yourself. Check the "What's New" panel to see the latest updates and get the most out of your inbox and calendar. You can access it by clicking on the megaphone icon in the upper right corner of Outlook, clicking on the various feature blocks and features to see brief animations showing the feature and even try out new features directly from each block.
Focus on what matters with improvements to contacts and people
People view – People's view of the new Outlook Mac is here! Explore the contacts that are important to you, that you collaborate with frequently and even those that you want to follow – all in one place. Easily create new contacts and make updates to existing entries directly from this new view.
People search – Search goes beyond just emails and helps you discover important contacts and colleagues. Contact search works intuitively when you're using people's view – just use the search bar at the top of Outlook.

When looking for someone, click on the avatar image in the search suggestions to view additional details about him, such as the organization chart, name, and email address.
Manage your email and calendar with ease
Create an event from email

 – some emails are really better as meetings. Include all email recipients and the entire email thread in an event – all directly from the message.

Suggested times

 – Finding an ideal time to meet can be challenging. Now, when composing an event, Outlook will make the assumptions and suggest a time when all participants will be available.

Read receipts

 – make sure important emails have been read by key recipients. Keep track of who opened and viewed your message by requesting read receipts when writing your email.

Additions to expanded search

 – When searching for something specific, select "Add more options" to narrow your search by fields such as Cc, Bcc, priority, read status, flag status, or category.
Coming soon…
Open shared calendars

 – See all your appointments in one place, with the ability to open shared calendars you've been added to and view them along with your personal schedule.

S / MIME

– Increase the security of your email with digital message encryption, the extra protection that ensures that emails can only be opened by recipients who have the correct key.
Recommended: Apple tests keyboard shortcut to change brightness in beta for iPadOS 13.5.5
We remind you that the new Outlook for Mac is only available for Office 365, Outlook.com, and Google accounts using macOS 10.14 Mojave or higher. Did you install the update? Be sure to share your user experience with Techwikies through space below!
Source: Microsoft