The biometric reader on the screen is the new sensation of the moment and is expected to become an extremely popular technology in the coming months on smartphones line tops. And, Samsung has just registered a patent for a fingerprint reader on the smartphone's own screen in WIPO (World Intellectual Property Organization), explaining the method of operation that the user would have to register and activate the sensor.
The Samsung patent reveals that the biometric reader is much smaller than we currently see in smartphones such as Vivo Apex; it occupies a smaller area of the screen and for this reason, it ends up registering less finger information.
With such a small reader, the user would have serious problems when trying to unlock the smartphone, since only a small region of the finger would be registered. That's why Samsung came up with a different method for the sensor to recognize different parts of the finger without any headaches for the user.
The images above and below reveal that it would be necessary for the user to move his finger across the screen in the biometric sensor region so that only then could authentication take place, something quite different from what we currently use, where you just have to put your finger on the sensor to unlock.
An indication would be displayed on the screen so you could understand the movement: touch the screen and then move your finger to some of the directions proposed in the patent.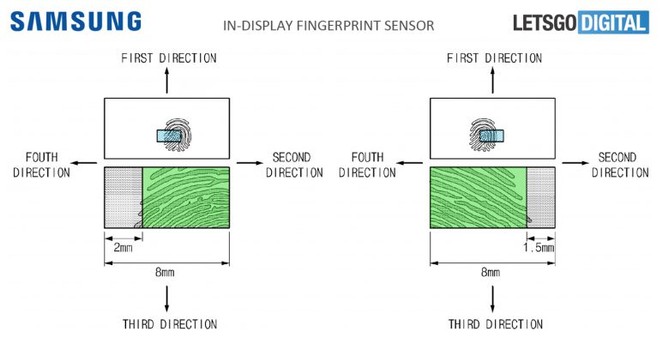 If Samsung is really considering adopting this form of biometric authentication on their smartphones, we are likely to see it in action with the launch of Galaxy Note 9, which will be released in the second half of this year and maybe Samsung's first mobile phone with print under the screen.
What did you think of this idea? Do you prefer Vivo solutions where just tapping and unlocking or Samsung's also seemed interesting? Leave your comment here below!