If you're as excited for the Galaxy Note 10 as we are you might be considering putting down a pre-order. That means you'll be among the first to take in that brilliant 6.3-inch Dynamic AMOLED display for all that it's worth. However, if you want to keep your Note 10 looking Day One gorgeous, you'll surely need a screen protector to avoid any distracting micro-abrasions from spoiling your new phone. While there will be more products added to this list, these are the best screen protectors for the Galaxy Note 10 so far
Trusted Tempered Glass:
Whitestone Dome Glass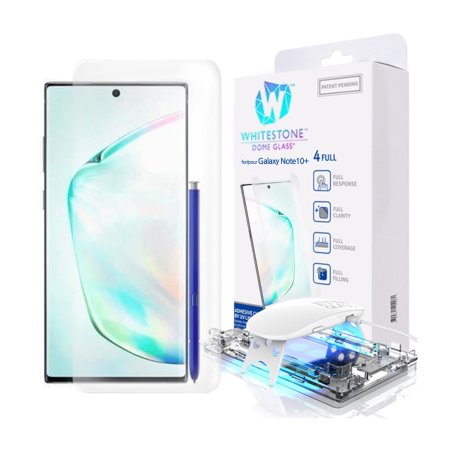 The Whitestone Dome Glass is a premium option for protecting the display of your Note 10. This kit includes a phone holder that ensures a perfect installation and acts as a guide for the UV light that cures the screen protector to the display. Whitestone Dome Glass screen protectors offer full coverage for the whole display and won't pop loose over time.
Tempered Glass for Less:
TyZHL Tempered Glass Screen Protector
Tempered glass is your best bet for protecting your Note 10 against drops and serious scuffs. While we wait for more premium accessory makers to put out their offerings, we'll recommend this affordable tempered glass slab. The kit includes everything you need for a clean installation and will let you use your phone without worrying about scratches
A multi pack of Film:
Spigen NeoFlex TPU Film (2-pack)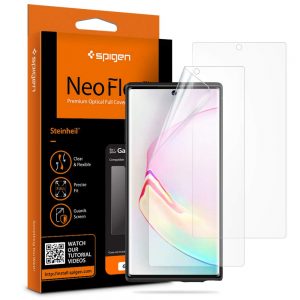 For heavy users who put their phones through hell and back, film screen protectors are great for taking the daily wear and tear of busy pockets and other situations where rubbing can cause scuffs and micro-abrasions. Spigen offers a pair of TPU film screen protectors that are case friendly and should do a better job adhering to the curved edges of the Note 10 display.
Bordered in Black:
VitaVela Tempered Glass Screen Protector
It can be tricky to line up a screen protector on a big phone like the Note 10. VitaVela tries to make it easy with a black border around the curved edge of the protector, which is also where the adhesive glue is applied. This screen protector is designed to line up perfectly with the Note 10's screen but isn't compatible with all cases.
Ultra Thin Film Protection:
Starred TPU Film Screen Protector (2-pack)
This two-pack of ultra-thin TPU film screen protectors includes a cutout around the selfie camera that will help with lining up a perfect installation. Each screen protector protects well against fingerprint smudges thanks to the oleophobic coating and is designed to be compatible with most cases.
A progressively premium option:
Olixar Tempered Glass Screen Protector
Olixar has a tempting tempered glass screen protector available through its website. It's made of shatterproof tempered glass with curved edges and an oleophobic coating to protect against fingerprint smudges. Pretty standard stuff, really, but if you've trusted Olixar in the past, that should be enough to justify spending a bit more for their Note 10 accessories.