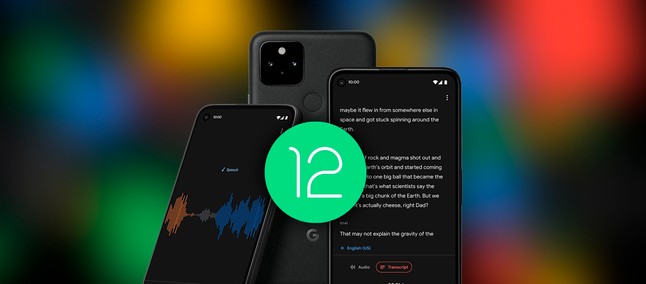 Google started making available on Wednesday (07) a new test version of its operating system for mobile phones, Android 12. The Developer Preview (DP) 2.2 was recently released to developers of applications for the system with some bug fixes. errors pointed out in DP 2.1, which was released at the end of last month.
DP 2.2 of Android 12 should not present major changes or even new features but will be focused only on correcting the existing flaws. Still, those who download the new version will also have access to the Android security package for the month of April. With that, it is also possible to expect some speed and performance improvements on devices like the Pixel 4a 5G and the Pixel 5.
Along with the Android 2.2 DP 2.2, Google released a small changelog, which shows which flaws were corrected with the update. Check out the details:
We fixed an issue that sometimes caused the Settings application to fail when a user tried to access Bluetooth settings. (Error # 180962266)
We fixed an issue that caused widgets to be removed from the home screen after installing an OTA update.
We fixed an issue that caused notifications to be sent about the poor quality of the Bluetooth call, even when the call quality was not currently affected.
We fixed an issue that caused WiFi network passwords to not be saved in some cases.
We fixed an issue that caused the notification shadow to be activated when typing on the on-screen keyboard.
We fixed an issue with Codec 2.0 that could cause applications to crash on some devices.
We fixed an issue that could cause videos to be encoded incorrectly when shared.
To date, some details are still unknown regarding Google's next mobile software. However, it is possible that the Mountain View Giant will present some news about the system during the Google I / O 2021 event, which should be held in May.
Android 12 Developer Preview 2.2 will be released in an OTA notification on devices that are already running the previous test version of the system.
Since the release of Developer Preview 2 for Android 12, the latest version released to developers, some users have noticed errors and problems with the future final version of the operating system. Now a new update is released focused on fixing minor problems on the platform, such as an adjustment in WebView that caused some applications to close immediately.
Release date: March 29, 2021

Build: SPP2.210219.008.A1

Emulator: x86 (64-bit), ARM (v8-A)

Security package: March 2021

Google Play Services: 6/21/19
Enthusiastic users or developers using Android 12 in the beta can update via factory image or OTA. Remembering that this update is available for smartphones of the Pixel 3 , Pixel 3a, Pixel 4a, and Pixel 5 lines.
Google releases Developer Preview 1.1 from Android 12 with bug fixes
Google released the first preview for Android 12 developers on February 18, now, less than a month later a new version is being released called Android 12 DP 1.1, which arrives with bug fixes found in the current version.
Among the news cited by Google in the list of changes for Android 12 DP 1.1 is the security patch of March 2021. Some of the problems solved are:
WiFi connection instability
Error displaying "System Interface stopped" warnings
Excessive battery consumption in standby mode
Fingerprint reader failures
Unexpected cell phone reboots
In addition, other minor issues are also being addressed in this release, giving more stability to the Google operating system.
Among the details of this new version, we have the build SPP1.210122.022 with Google Play Services 21.02.14 installed. The OTA file used for the update weighs 1.7GB for Pixel 5 users, while the full image for installing from scratch is 2.1GB.
Recommended: Kids Quest for PC – Windows 7, 8, 10 – Free Download
If you wish, you can download the Android 12 DP 1.1 update from the link below:
Source: developer.android