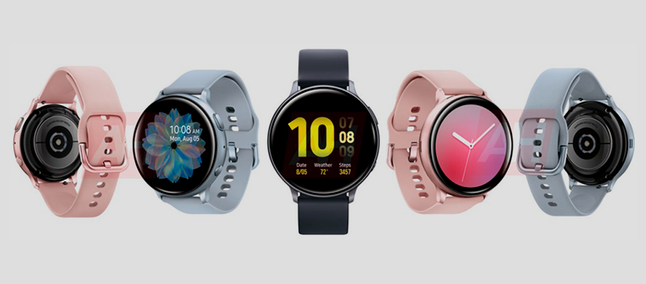 We know that Samsung, which just announced its latest high-end tablet, the Galaxy Tab S6, is with other major "cocked" releases for the next few days, and apparently, the company is not doing a good job trying to prevent your upcoming products will show up on the web.
The Galaxy Note 10 and Galaxy Watch Active 2 has played leaks in recent days, and both end up, once again appear on the internet before being officially announced.
The upcoming phablet showed up in South Korea in conjunction with the smartwatch, as we commented in a previous leak, but Watch Active 2 has also featured other leaks in recent hours, including the renderings below that were released by Android Headlines, showing the three colors that will be available at launch.
Instagram Leak
Samsung's smartwatch, which will be officially unveiled in the coming days, also showed up on Instagram in the hand of Fjona Cakalli (self-titled "Princess of Technology").
Cakalli showed the wearable in use in some stories sent to his profile on the social network, briefly demonstrating its design and some features.
The model in question features pink trim and silicone bracelet; Like the current generation of Watch Active, it has no rotatable edges, meaning it is operated exclusively by the touchscreen.
Above we can check out features such as the heart rate monitor, which reveals stress levels, showing that Samsung is indeed heading into health, reaffirming its wearable as a rival to Apple Watch.
Recommended: Out of Stock: Vivo Z5 "disappears" from online shelves after being announced in China
Of course, we are not talking about something as special as the ECG, but little by little, Samsung and other manufacturers are following the trend that started with Apple's smartwatch for health care.
Source: www.androidpit.com