With the release of Windows 11, you might be facing difficulties using your habitual slideshow maker since it's probably not compatible with the latest update. This article will be helpful if you want to find a worthy alternative to your previous program or powerful software for your creative endeavors. We will be reviewing the 3 best slideshow makers you can find in 2022. Let's begin! 
SmartSHOW 3D
SmartSHOW 3D is a Windows 11 slideshow maker designed to be used by people of all skill levels and backgrounds. It has an intuitive interface with a drag and drop timeline and a convenient storyboard, which allow combining photos, videos, music, and decorations. Thus, you will surely experience an efficient and easy workflow if you use SmartSHOW 3D. The program is equipped with every tool you need for an impressive video: beautiful transitions, slideshow templates, animation effects, powerful sound tools, built-in soundtracks, titles, captions, and 3D collages. Finally, the editor supports all popular formats like AVI, MP4, 3GP, etc. Besides, it allows quick export to any device or online platform. You can get to know the program better within its free trial.
Here are some more features of this slideshow maker for Windows 11:
500+ visual effects

Video templates and pre-made collages 

Title cards and transitions

200+ ready-to-use songs 

Layers tool for the PIP effect 

Watermark tool

Background editor

Support of diverse video formats and easy export

Burning to DVDs with customizable menu
More from us: Background Eraser Remove BG For PC (Windows 10, 8, 7)
CyberLink MediaShow
CyberLink MediaShow is a well-rounded movie and slideshow maker for Windows 11. This versatile editor allows you to edit your pictures and videos, join them into beautiful videos, add background music, touch up and tag faces, and instantly share your videos on social media platforms. Besides, the program supports 3D content and provides an easy browsing system. That means it can help to effortlessly organize your content and make a stunning slideshow within a couple of minutes. Finally, CyberLink MediaShow allows burning your movies to DVD and Blu-ray, which is helpful for people who like watching clips the good old way. However, this slideshow maker has not had updates for a while.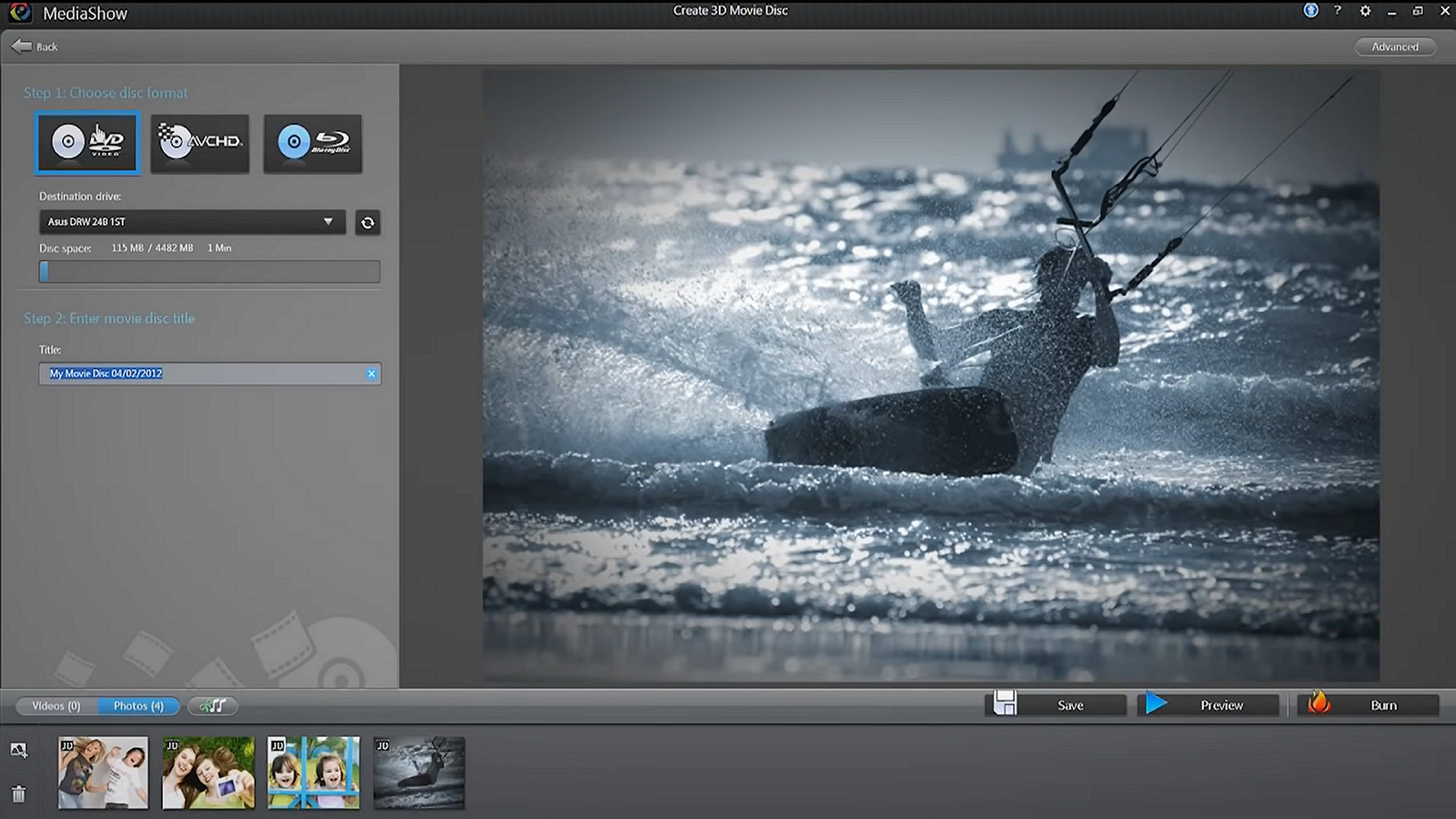 Check out the other advantages you will find inside this Windows 11 software:
Calendar media view system

Photo editing: enhancement, color correction, batch processing 

Video editing: stabilization, denoising, enhancement 

Tools for adjusting the audio 

FaceMe tagging technology 

Smart storage: handy video labeling engine
Also read: 3 Best Ways to Add a Logo to a Video
Magix Photostory Deluxe
Magix Photostory Deluxe is a widely recognized video editor for traveling enthusiasts that allows making exciting animated slideshows. The program includes manual and automatic tools for editing your content – color correcting, cropping, splitting, and merging. Besides, it features many video templates and decorations to make your video a delight to watch. Magix Photostory Deluxe supports 360-degree videos, 4K, and other popular video formats. To learn more about Magix Photostory features and how to make a slideshow on Windows 11 gear, you can download its free 30-day trial. However, it has significant limitations that won't allow you to experience the full potential of the editor. The program itself might appear too expensive for some slideshow enthusiasts.
Here are more exciting features you will find in the Magix Photostory:
Customizable Travel Maps animation

1500+ dynamic effects and transitions 

Automatic Shot Matching 

100+ photo collage templates 

Storyboard mode with high-resolution previews 

50 royalty-free soundtracks 

Automatic Volume Regulation 

Extensive sharing options: 4K, AVI, MPEG, Motion JPEG, AVI, etc 

DVD and CD burning tool 
Above, we have shown you the 3 best slideshow apps for Windows 11 currently on the market. Hopefully, you have ended up with the one you like. If you are still deciding, we recommend giving each slideshow maker a chance since they all have exclusive features for you to look up to and offer free trials to better come across to you. Want to explore more options? Check out a detailed review of the best slideshow makers for Windows 11 to discover some more alternatives and dive into deeper detail about the ones we have shown you. We wish you luck in your creative endeavors.