If you are looking for a small and lightweight smartwatch for yourself that will look better on your wrist than Samsung has got something for you a sporty fitness band which is the brand new Galaxy Watch Active.its price is quite affordable at $200. Galaxy Watch Active works with both Android phones and iPhones and it is half of the price of an Apple watch and also less expensive than Samsung's other Gear watches. It also offers a beautiful display, a metal body, a heart-rate monitor, GPS, workout and sleep tracking.

Samsung has even promised that this watch will be its first one that you will be able to use to measure your blood pressure. So the question is should you buy the new Galaxy Watch Active? Are there any hidden pitfalls? I have spent the last week with this timepiece and it's time to sum this experience all up in our review.
Specs:
1-inch 360 x 360px AMOLED screen with Gorilla Glass 3
Dual-core Exynos 9110 processor
768MB RAM, 4GB storage
230mAh battery
Tizen OS 4
IP68, MIL-STD-810G certified, 5ATM water resistance
Wireless charging support
Bluetooth 4.2, Wi-Fi b/g/n, NFC (but no MST) and A-GPS
4 colors: Silver, Black, Rose Gold, and Sea Green
Price $200
In the box:
40mm Watch
20mm strap + extra strap
Magnetic charging dock
Manuals
Size and Fit
The first thing that you should know about the Galaxy Watch Active is that it is a tiny watch which can be fit easily.
We have so many great big smartwatches and a few good small smartwatches available in the market. So this size is something that many people want from this industry and appreciate it.
It has a 1.1-inch screen but watches face size is 40mm. It looks perfect on smaller wrists and also a great fit for many women, but it will not look great on a bigger wrist.
Bands
The Galaxy Watch Active comes with a sporty silicone band in the box and this band comes in a small and a large size version. If you have seen the sports band on the Apple Watch, you can recognize the similarity instantly like the looping design, the soft silicone feels. Both seem to be similar to each other by design but it also feels comfortable to use. The buckle here is a traditional one, though, and we actually find it more convenient, plus it is made of metal and feels very solid.
like other watches you don't have a proprietary system of swapping bands here, you get a classic quick release system that allows you to easily swap bands in seconds. The band size is 20mm.
In fact, swapping the sporty silicone band with my beautifully aged and worn-in leather band was the first thing I did, and this alone can instantly make this watch much more elegant and better fitting your business attire. Sure, this is not a watch that you wear with a tux or to show off as jewelry, but with a proper band, it can look good both at the gym and in the office.
Display
You have already seen the specs: a 1.1-inch AMOLED screen with a 360 x 360-pixel resolution and Gorilla Glass 3 protective glass. The screen of Samsung Galaxy active is nicely laminated, swiping on screen feels very smooth to the touch; the brightness of screen gets bright enough to see under bright daylight, and the always-on option shows you the time all times even without requiring you to first flick your wrist.

You should also know that there is quite the big bezel around the screen, which makes the display itself appear even smaller than it is, but while this does not look great, we got used to it and stopped noticing the bezel after just a few days.
Tizen and the missing rotating bezel
Just like other Samsung smartwatches, this smartwatch also runs on Samsung's own Tizen platform. But it doesn't have the convenient rotating bezel like those other Samsung watches and you cannot you use it to navigate around the menus. To pick any app on its tiny screen can become a pain for anyone.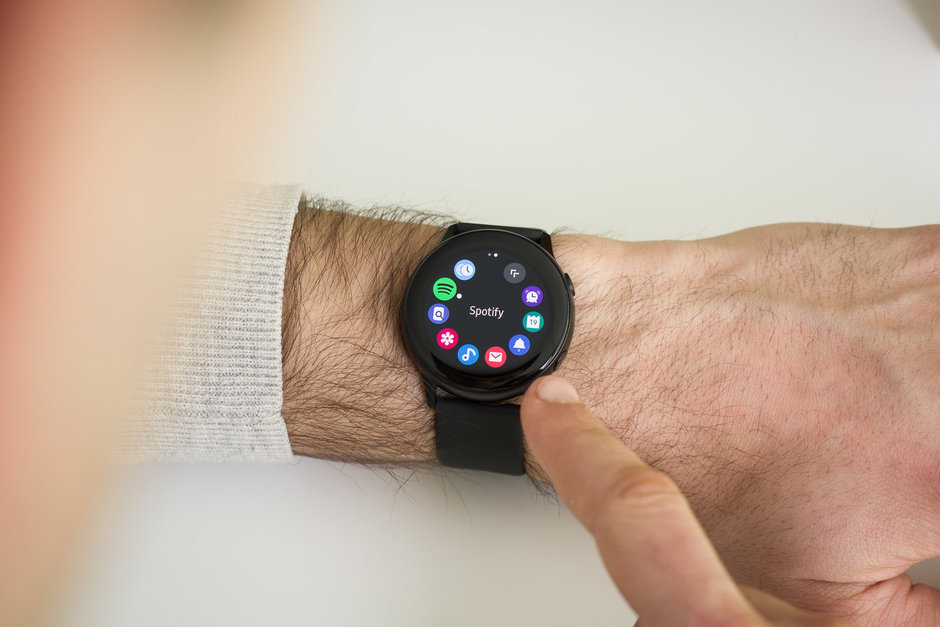 At the same time, though, you have to ask yourself how often do you actually use apps on your smartphone? For my personal use, I found that I barely do, and most of the things I do on the watch are just a quick glance to see the time or a swipe between different home screens when I am clearing notifications from it or looking up the weather. For most people, it may not be a deal breaker because of its small screen and not the availability of rotating bezel.
Apps on Samsung Galaxy Active:
you will often hear about Tizen downside that it does not have the big app store like  Apple Watch or Google Wear OS watches have.
it is true, but the very essential apps that most people used are available here. You have Spotify for music, Strava, Endomondo and Map My Run for the runners and cyclists, you also have My Fitness Pal and Swim.com, so your basics are covered.
You also have many other features available in this watch like
Workout tracking
Sleep tracking
2 days Battery life
Pros
Small and lightweight, comfortable to wear
Quick Release for easy band replacement
Spot-on automatic workout tracking
Bright screen with the always-on option
Accurate heart-rate measurements
Great price
Works with Android and iPhones
Cons
Haptic feedback could be better
The rotating bezel is missed
Also Read: What is Wi-Fi 6, and should you buy a new router?
If you want to purchase a watch for your small wrist then It is a small, lightweight, comfortable, and perfectly fit watch for people with smaller wrists. You can buy it at just $200 and it looks way better than a sports band and it feels way faster than say a Fitbit Versa.