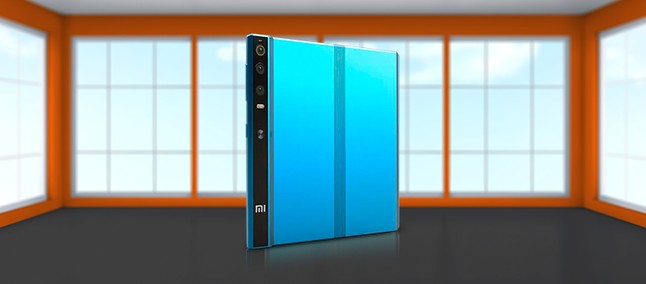 Xiaomi's foldable cell phone, which may be called Mi Mix Fold, has already had its look completely revealed in an unexpected leak in public transport, showing that the Chinese manufacturer will adopt a notched look, giving a greater uniformity than that achieved by Samsung and other manufacturers that have a notch.
However, in addition to this major leak, new information about the product has appeared on the web, including several renderings that give details about the look of the smartphone, going far beyond the display.
And speaking of the screen, according to the Tech in Deep website, the foldable device will come with a 12.5-inch AMOLED panel with 2480 × 1860 resolution and a 90Hz refresh rate. However, Xiaomi will also implement a secondary display on the front of the product, where it will have side functions and a resolution of 840 × 2520.
With a triple set of lenses at the rear, the primary can feature a 50-megapixel Sony IMX766 sensor, the secondary with ultra-wide capture capability, and the third telephoto with 3X optical zoom, but there is still no information about the lens. for selfies.
In terms of performance and specifications in general, everything indicates that the smartphone will feature the Snapdragon 888 (SM8350) platform, dual-chip, NFC, as well as stereo speakers. There is no data on the release period, so it will be necessary to stay and look for upcoming leaks.
Xiaomi foldable smartphone displays flexible internal screen without camera notch in photos
The race for the production of the best foldable smartphone of 2021 should start from February since Samsung should update its Galaxy Z line with new models, LG can present its smartphone with a sliding screen until September and more companies start to invest in the novelty, including Xiaomi.
After many patent leaks and an old teaser released showing a foldable Xiaomi with two hinges dividing the smartphone into three parts, we now see the first photos that show, in fact, what the final model of a foldable Xiaomi might look like.
Shared on Twitter and originally published on the Chinese social network Weibo, the photos show the internal folding screen with MIUI 12 interface.
The model seems to be wrapped in a protective cover to prevent leaks on the body (something that does not work very well, as we see), and it is possible to see clearly that there is no notch to house an internal front camera, which leads us to the direction of two options: either this is a foldable tablet that does not have a large external screen, or uses a retractable camera system to not offer notch on the internal screen.
Anyway, it is still early to say with great certainty as to what the final design of the project will be, but at least we have a basis that Xiaomi should be inspired by the Galaxy Z Fold 2 which has the safest format for the category.
Recommended: How to use CIBC Mobile Banking on PC (Windows/Mac)
It is worth remembering that there are also rumors about the launch of a smartphone in flip format, similar to the Galaxy Z Flip and Motorola Razr, but new details should come up soon.
Source: Weibo