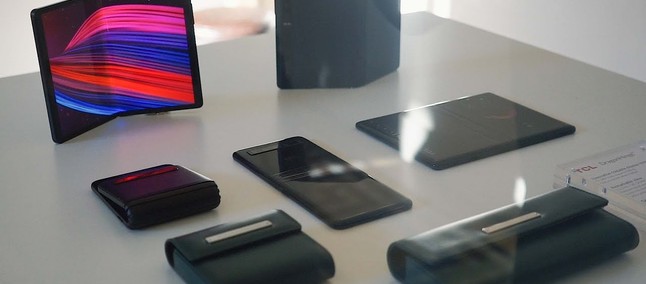 Earlier this year during Mobile World Congress TCL introduced its DragonHinge hinge solution to the folding smartphone market, revealing that the company had plans to work on devices to compete or offer a cheaper solution than market flagships like the Galaxy. Fold and Huawei Mate X, two handsets that have already been announced, but remain unavailable to the public after many delays.
On the morning of Monday, Leaker Evan Blass shared images of TCL 's roadmap for the coming months, and on it we see some very interesting gadgets.
In the TCL roadmap for the coming months, it is possible to see that the company is very, very close to announcing the new T1 model with three cameras and that already has more details revealed, as we will talk below.
Looking ahead to 2020, we see that the manufacturer is planning to announce in the first quarter of the year a new version of the line that will be announced this year, the TCL T1 Pro with Edge AMOLED display and four cameras. Later, at the end of the second quarter of 2020, the company plans to unveil the T1 5G and T1 Pro 5G at once, two models similar to those already announced, but with 5G connectivity expected to become even more popular next year. year.
As early as Q3, probably sometime in July 2020, TCL is expected to introduce FlexTab, its first flexible AMOLED screen folding smartphone, which could be priced much more competitively than Samsung and Huawei models. to 2019.
With technology becoming more affordable and popular by 2020, the manufacture and sale of folding smartphones are likely to be significantly reduced in price than it is today, but we don't know if TCL should bet on a cheap alternative to dominate the masses, or follow with high-performance hardware at high prices.
Blass also unveiled an image featuring details of the TCL T1, the first device in this new wave of handsets from the manufacturer. It is possible to see that the model to be announced later this year will feature a 6.5-inch screen with Full HD + resolution and drop-notch and features an intermediate-level Snapdragon 675 chipset.
This already makes us question the nature of the T1 Pro and also the T1 5G for 2020: while the Pro model is expected to feature a more powerful chipset and four rear cameras, the T1 5G variant may retain the use of an intermediate processor, but now include the 5G connectivity, offering one of the cheapest alternatives for the next generation of mobile networks. However, none of this is guaranteed and it is only speculation.
The other information about the TCL T1 displays the presence of three rear cameras: a 48 MP main sensor, another 16 MP sensor with 123º wide-angle lens and a last 2 MP sensor for depth of field data. The handset will come with two rear flashes, biometrics also on the back. and a 24 MP front camera.
Lastly, we have the 3,820 mAh battery with 18W fast charging support, a 6 GB edition of RAM with 128 GB internal storage and TCL's own Android 9 Pie operating system and promised for the ANdroid 10 Q. This device will have a USB Type-C connector.
Recommended: Google Stadia: A list of all games already announced, including exclusives
There is no price information or specific dates for the products displayed, but new information should arrive in the coming weeks or in the coming days.
Source: twitter