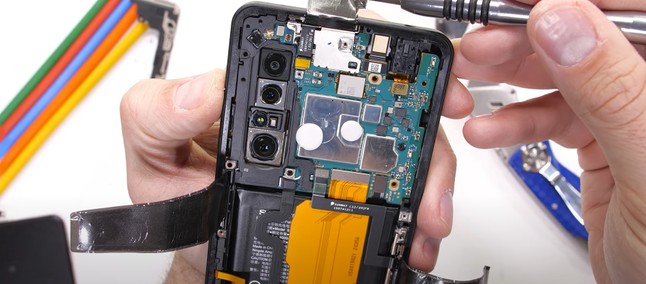 After passing a durability test, it was the Xperia Pro's turn to face a chopper and show its internal parts. The experiment was carried out by the channel JerryRigEverything, on YouTube.
In the so-called teardown, it was possible to see if the focus on a professional audience also translates into the hardware components of the cell phone. You can watch the results in the video below:
One of the initial highlights was the presence of colored screws to secure the motherboard. The shades differ according to the size of the piece. In addition, it is possible to check the protections to resist water and dust, from the part of removing the back cover to around the speaker.
In addition, there is a cooling plate located under the screen – which broke when removed – with a considerable size. The experiment showed how quickly the liquid can evaporate if this layer is violated.
To complete, the disassembly also presented the antenna that provides support for 5G in millimeter waves and the characteristics of the set of cameras, such as the presence of optical stabilization in the main and telephoto sensors.
Recommended: Ear-care: imoo launches first open headset with design thought for children
So, what were your impressions of the Sony Xperia Pro teardown? Tell us your opinion in the comments area.
Technical specifications
6.5 inch OLED screen with 4K resolution
The notched panel, 21: 9 aspect ratio, 60 Hz ratio, and HDR support
2020 Snapdragon 865 processor
Support for 5G in mmWave and sub-6 GHz
8 MP front camera
Three rear cameras

12 MP main sensor
12 MP sensor with a wide-angle lens
12 MP sensor with a telephoto lens for 2x optical zoom
3D ToF sensor for depth data

USB Type-C port, HDMI Type-D, headphone jack
Lateral biometric reader
4,000 mAh battery
Stereo speakers
Android 10