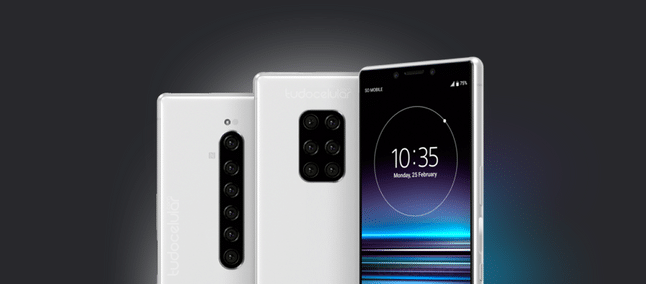 Sony may not be at its best when it comes to the smartphone division: with the company leaving important markets such as South America (including Brazil), North America, the Middle East, and much of Asia, the future of the Xperia brand is very uncertain and there are no guarantees about what we can expect for the next few months, but that does not mean the company is not planning interesting news to rebound.
Knowing the difficulties of the world of smartphones, the Japanese may now be working on a smartphone with no less than eight cameras throughout the body of the device, two front cameras, and six rear cameras, a number larger than the already high quantity that has the Nokia 9 PureView.
The information is from Max J. on Twitter, who posted the information on Monday stating that the device is still in development and has no details or higher specifications defined.
The leaker also took the opportunity to imagine how the company's smartphone could be with six reverse cameras, and we at TudoCelular also took the guesswork out of the design of the device. For this, we use as a basis the design adopted by Sony in Xperia 1.
Below you can see that the company can adopt two standards: either continue to offer all sensors in the vertical array in a long line of sensors at the rear (which is quite unlikely), or condense all sensors into two lines of three lenses.
Reinforcing: this is just a concept, not the final design of the device.
It is very likely that the company will continue to adopt the 21: 9 screen standard for kinematic experience, but there is no concrete information to guarantee such a specification. In the same way, it is not confirmed if the company is willing to adopt the notch on the screen for this new device, so we do not know if it should continue offering a thick top edge or offer a notch to house both cameras as in the Galaxy S10 Plus and S10 5G.
Recommended: Success shot! PUBG Mobile has the highest monthly box office between games for smartphone
More news should emerge in the coming months as we approach August and September when the company can announce its next flagship. With a foldable smartphone design, the Xperia F, there is a possibility for the launch to stay for 2020. But everything is still a rumor.
Source: twitter.com