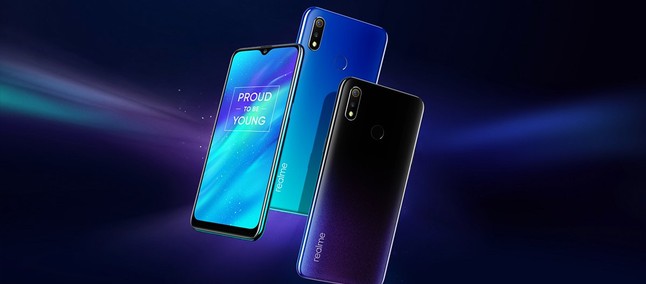 Realme officialized this year the series Realme 3, which is composed of the standard model and by Realme 3 Pro. Yesterday we saw that another device of this family is supposedly in development, it is the Realm 3i, which should be a simpler version of the traditional device. Yesterday it was found on a test at Geekbench, and now the Indian retailer Flipkart disclose some of its features.
In addition, the design of the new smartphone from the Oppo subsidiary was disclosed, proving quite similar to what is found in the brand's most expensive siblings.
Here, we will find a dual rear camera system with an LED flash just below, inside a wrapper in the upper left corner. The fingerprint reader will be back and it will be available in blue and red gradient colors.
In the Geekbench test, it was seen using the MediaTek Helio P60 processor, slightly lower than the Helium P70 Realm 3. In this release of Flipkart, we see the confirmation of the use of this chipset. We also see that the battery of the smartphone will be 4230 mAh, which is a capacity identical to the standard device.
Recommended: Rumors reinforced! Famous leaker releases renderings of Galaxy Note 10 line
In any case, we do not know much other information about this new smartphone of the Chinese brand. However, we know she will host an event on July 15, and with luck, Realme 3i will be featured on that occasion. Until then, there is still time for more leaks and rumors.