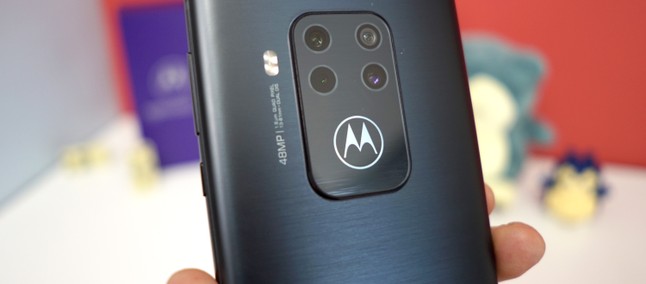 Last Friday we had the leaking of some real images of Motorola's future Motorola One series smartphone, which will feature a retractable front camera. The device had previously leaked at other times, especially in renderings, and today had new photos published.
Here we see the same design as before, with the front pop-up camera, the rear fingerprint reader with the LED around it. Nearby, in the upper left, we see the two rear cameras and the flash. Unfortunately, we still have no other information talking about him, so we will need to keep waiting for rumors and rumors talking about him.
It will be? New Motorola One Series model leaks showing retractable front camera
Motorola recently announced some new handsets in its Motorola One series. First, we saw One Vision unveiled, being the first of its kind to feature a 21: 9 aspect ratio and also a Samsung Exynos processor, more precisely the Exynos 9609.
After that, One Action was revealed, being quite similar to the previous one, but with the difference being in the cameras category. It exchanges the 48-megapixel camera for a 12-megapixel camera while adding a third sensor for ultra-wide-angle video recording.
The newest of these is the Motorola One Zoom, the first of its kind to have a quad-camera system, on-screen fingerprint reader and LED logo. But rumors also talk about One Macro, which will be the simplest and has leaked on other occasions.
Now another device showed up. We noticed a device with the writing "Motorola one" written in the lower-left corner, a rear fingerprint reader with an LED around it and two rear cameras. At the front, it has no cut-outs, be it a hole or a traditional notch.
A third image shows a phone with a retractable front camera mechanism, with the Motorola camera app open, confirming that it is a brand new handset.
But because of the look of the cameras in one of the images, some believe it to be two different phones, while one has the pop-up photosensor, another would have a rotary camera.
Recommended: Realme X2 Pro will have Hi-Fi and Dolby Atmos stereo sound, according to teaser
Anyway, all the information is quite uncertain, and the rumors are not very clear. Now you have to wait for new leaks and rumors, or for its officialization. Let's wait.