Just two days after releasing the solution to the network problem in the April 10 Windows 10 update, Microsoft released the Insider Preview Build 17704 (RS5) for those registered to Fast Ring or Skip Ahead.
This update comes with several new enhancements to the Edge browser, enhancements to the Skype for Windows 10 application, new typing insights, and more.
One of the good news that has hit Edge is the media playback controls on the sites. If you bother with web pages that play videos and audios automatically, Microsoft's browser is now able to prevent that from happening.
Edge
New Microsoft Edge Beta logo: A new "BETA" Edge icon has been introduced to help users visually differentiate between the officially released versions of Microsoft Edge and the builds in which Edge is in continuous development. This logo will only be seen in Insider builds.
New Design Enhancements: As we continue to see the evolution of how Microsoft Edge integrates the Fluent Design System for a more natural and usable experience, you may notice some subtle adjustments in the appearance of the browser tab bar. In this build, we add a new depth effect to the guide bar to help emphasize the active guide.
Redesigned "…" Menu and Settings: Microsoft received feedback from users that Microsoft Edge settings were getting a little complex for a single page. In this release, the Edge settings have been revised to make it easier to navigate.
Customize Microsoft Edge Toolbar Items: By clicking "…" on the Microsoft Edge toolbar, you'll find a refined menu that puts common commands like "New tab" and "New window" in front and centre. Added the much-requested ability to customize which icons appear on the Edge toolbar. You can remove them or add as many as you want.
Control whether media can be played automatically: This is a great news. The new setting in Microsoft Edge lets you control whether sites can automatically play media. You can find this setting under "Advanced Settings"> "Automatic Media Playback" with three types of options.
New icon for PDF: Windows 10 now has a new icon for PDFs in File Manager when Microsoft Edge is the default PDF reader.
Skype
Better call experience: Added several new call features to make the Skype experience even better than before.
Flexible group call screen: Customize your group call experience and decide who appears on the main call screen. Simply drag and drop people between the call screen and the main area to select who you want to focus on.
Take pictures: Capture pictures of important moments in a call. Snapshots ensure that you never forget the cool souvenirs you want to save or crucial information such as content that was shared on-screen during a meeting.
Start screen sharing with ease: It's easier to share your screen during calls.
New layout: Based on user feedback, accessing and viewing your contacts is easier.
Customizable themes: – Choose a colour and theme for your Skype client through the settings of your application.
And much more – Media gallery enhancements, notifications panel, @ mentions experience, and more!
Diagnostic Data Viewer
Users can now directly view the Problem Reports that have been or will be sent to Microsoft. Reports help the company identify faults and other disruptions on your device so they can enhance the Windows experience. In the Viewer, users can see specific details about each report they collected, such as when it was sent, and which application or component caused the report to be created.
You can find the data viewer through the Microsoft Store.
videos
There is a new preview mode for you to test, designed to improve the visibility of your video when you are in a very clean environment. This feature uses the light sensor on your device to detect ambient light and automatically adjusts your video accordingly.
To turn it on, navigate to Settings> Applications> Video Playback and enable the option to adjust video based on lighting.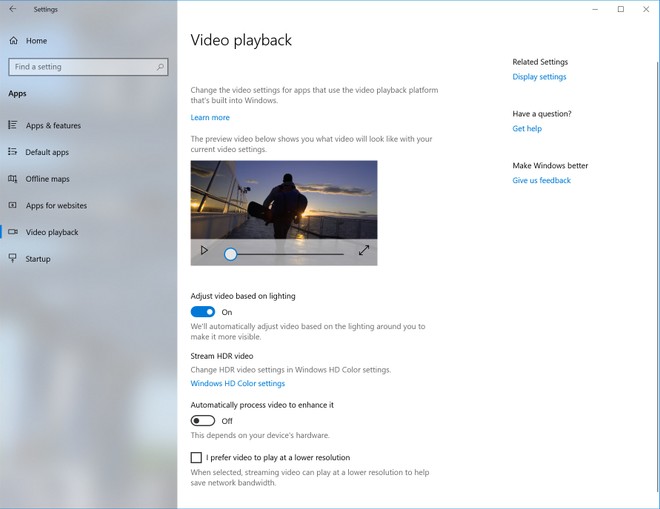 Typing
Windows now show you insights about how the AI has helped you to type efficiently. If you use keyboard software in Windows, there are many features built into the typing experience that use AI to help you be more efficient.
Some examples include self-correcting misspellings, predicting the next word you would type, word suggestions as you begin typing so you do not have to type the whole word, among others.
Windows now show statistics about each of these features. Go to Settings> Devices> Typing and click the link for typing insights.
Install fonts
After you have made fonts available from the Microsoft Store, the ease of installing fonts has been expanded to include files from other places.
Now, when you right-click a font file in File Manager, you'll see two options. "Install for all users," which provides the previous system-wide install feature, requires an administrator, and only "Install", which allows any user, including non-admin users, to install a font for their own use.
Windows Mixed Reality
The mixed reality feature has also been enhanced. By using the Immersive application, quick actions allow users to easily access the home page, view the time, or launch the mixed-reality capture tools (photo, video, and more). To start the quick actions of the Immersive application, simply press the Windows key or use the Bloom gesture.
Source: Blog.Windows