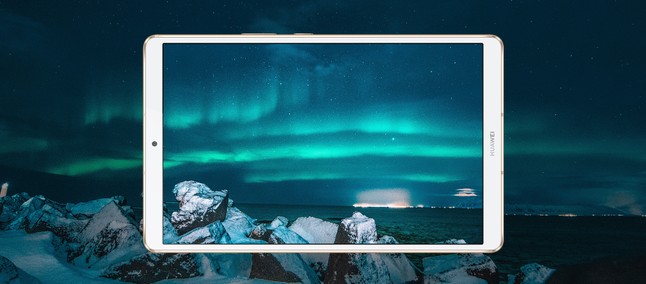 In addition to the presentation of the HiSilicon Kirin 810 chipset and the arrival of the Nova 5 family, Huawei took advantage today to launch the new generation of tablets named MediaPad M6, which includes 2 screen sizes and 4 set options that consider as the basis of the amount of storage and connectivity to differentiate.
Very similar in itself (the basic difference is due to the size of the screen which can be an IPS 2K of 8.4 "or 10.8" and consequently the capacity of its battery), both rely on the proprietary HiSilicon Kirin 980 chipset, combined with 4GB of RAM and options of 64GB or 128GB in internal storage.
Already in the question of cameras, both have a front sensor and a rear, these being 8MP and 13MP respectively, allowing you to use the device for video calls and casual photos without major jolts.
However, it seems the main vocation of both devices is multimedia consumption, not only a screen with good resolution and brightness as a set of speakers signed by Harman Kardon distributed in four areas (two on each major side) , promising better fidelity to bass and treble.
Technical specifications
Chipset: HiSilicon Kirin 980

Processor: Octa-core up to 2.6GHz

GPU: Mali-G76 MP10

RAM: 4GB LPDDR4X

Internal storage: 64GB or 128GB

External storage: microSD up to 512GB (not included)

Display: IPS 2K 8.4 "or 10.8" and 16:10 aspect ratio

Front Camera: 8MP

Rear Camera: 13MP

Battery: 6,100 mAh (8.4 ") and 7,500 mAh (10.8")

Operating system: EMIUI 9.1 based on Android 9.0 Foot
Price and availability
Officially presented today, the larger version will begin its pre-sale today with availability on July 10, the date that represents the beginning of pre-sale versions with 8.4 ", with availability from July 20.
M6 8.4 "Wi-Fi 4 / 64GB – 1,999 yuan (~ US $ 720)

M6 8.4 "LTE 4 / 64GB – 2399 yuan 

(~ $ 1340)

M6 8.4 "Wi-Fi 4 / 128GB – 2,399 yuan 

(~ $ 1,340)

M6 8.4 "LTE 4 / 128GB – 2699 yuan 

(~ $ 1,510)

M6 10.8 "Wi-Fi 4 / 64GB – 2,299 yuan 

(~ R $ 1,285)

M6 10.8 "LTE 4 / 64GB – 2699 yuan 

(~ $ 1,510)

M6 10.8 "Wi-Fi 4 / 128GB – 2699 yuan 

(~ $ 1,510)

M6 10.8 "LTE 4 / 128GB – 3,499 yuan 

(~ US $ 1,953)
Recommended: Amazfit Verge 2: new smartwatch from Xiaomi subsidiary wins Bluetooth certificate