The Google home hub which is Google's first and only Smart Display available in the market is one of the best gadgets of last year. It includes a built-in Google Assistant, voice-activated touchscreen, dual far field microphone, connectivity of WiFi and Bluetooth, 1.57-inch full range speaker, passive bass radiators, ambient EQ, can control compatible smart home devices and mic mute button for added privacy. It has everything that you can enjoy it and it will help you with your daily tasks.  According to an odd rumor which is spread on the Google Store, it says that it looks like soon we are going to get a successor of Google Home hub.
Spotted by Android Police, a page on the official Google Store website mentions a product that's yet to be announced named as the Nest Hub Max. The name is outed on a page by talking about Google's various smart products, and while there isn't a picture of it available yet but some of its features are revealed.
According to the Google Store page, the Nest Hub Max will have a 10-inch HD display much larger than the regular home hub, stereo speakers, and support video calls via Google Duo which is something not available on the Home Hub. There is more exciting also mentioned which is following
It has a built-in Nest camera with all the standard surveillance capabilities of the standalone device. Which means it will keep an eye on things at home with Nest Hub Max's built-in Nest Cam and get motion and sound alerts.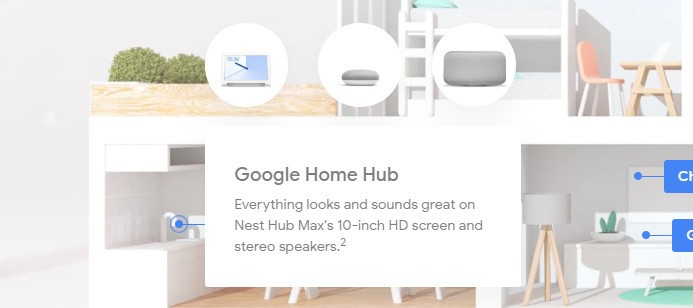 The idea of combining a security camera and a smart display into one product isn't something we've previously thought about, but now everyone wants it as soon as possible. A feature like this just makes sense, especially considering Google's ownership of Nest, and it'll be interesting to see how much this added functionality adds to the price compared to similar smart displays.
Then again, it's also possible this gadget may not even exist. We don't have pictures of it, a release date, and the name "Nest Hub Max" doesn't really fit in with Google's other products. Whatever happens, we'll be keeping our eyes and ears to the ground should any additional information pop-up.