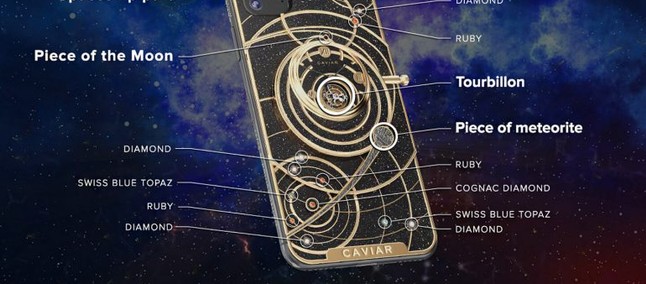 Passionate iPhone users and curious enthusiasts are looking forward to September 10, when Apple will announce its new line of phones. The highlight is the new camera configuration, misaligned so that the triple sensor fits into a square module.
And while the iPhone 11 doesn't hit the shelves, Caviar, a Russian company known for producing exclusive, limited-edition smartphones based on existing models, unveiled concepts created from the apple's new flagship.
The Space Collection features five luxurious iPhone models decorated with – as its name suggests – space items, such as fragments of a royal ship and single fragments. Because they are based on Apple models, the specifications are compatible, such as the triple camera.
The collection's flagship model is the Universe Diamond Edition, which was viewed by the Let's Go Digital portal. According to the Dutch website report, there are small diamonds representing the different planets, while golden spheres represent the orbits. The practical effect is the increased weight of the model.
Among the materials used to build the models are diamonds, rubies, rare topaz and even parts of meteorites, as well as the aforementioned parts of spaceships and lunar fragments.
This collection is a unique symbiosis of the most complicated handcrafted work using rare materials for which humanity really needed to go into space. We combine this with innovative technologies and timeless beauty ideas.

Caviar, through a spokesperson.
A mechanical watch is placed on the Caviar smartphone, which ensures maximum accuracy. A similar model, the iPhone Tourbillon Limited Edition, based on the iPhone XS and iPhone XS Max were launched in March this year and also had a built-in mechanical watch.
The Caviar iPhone 11 Special Edition series will be released in September this year, shortly after the announcement of the new Apple models. But it is noteworthy that obviously, this model is not for everyone. There will be only 99 copies, and to secure a unit, a pre-order is required. And the prices correspond to the exclusive character. Universe Diamond has a starting price of $ 48,780, or $ 197,000 in direct, non-tax conversion.
Recommended: xCloud, is that you? Screens indicate Xbox One mirroring for smartphones
In addition to the flagship, there is the Singularity Edition, dedicated to the black hole, black carcass and meteorite fragments, and a suggested retail price of $ 5740. The Soyuz Edition is dedicated to the Soviet space race, with real spacecraft fragments and a suggested retail price of $ 5290. There is also the cheapest Explorer model in the line, with a suggested retail price of US $ 4530.
Source: nl.letsgodigital.org