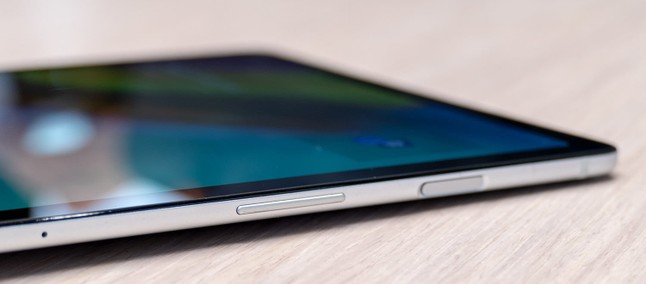 Shortly after the first signs that Samsung was preparing its next top-of-the-line tablet, the first images of the product begin to appear on the internet.
As you can see, the Galaxy Tab S6 will come with an up-to-date design compared to what we see in smartphones lately: smaller edges and double lens assembly at the rear. Early signs that the market for large-screen devices would update in this direction were seen with the iPad Pro announced last year, which left the physical button and reduced the traditional ends of the device.
In terms of hardware, as you can see in the complete article below, we will have a product with Snapdragon 855 and 6 GB of RAM. Samsung's decision is curious because for some time the company has not invested in cutting-edge features on its tablets. The Tab S4, for example, featured a Snapdragon 835, when at the time of its announcement Snapdragon 845 was already extensively equipped on cell phones worldwide.
Rumors suggest that the launch could happen in August, as Tab S4 was announced in the same period in 2018. August is also the month of formalization of Galaxy Note 10.
If the product comes with all these qualities and depending on its price, we may have some competition against iPads that dominate this niche market. Will Samsung give a headache to Apple?
Nothing S5: Samsung's next top tablet line should be Tab S6, suggests a leak
A recent leak suggests that Samsung – which has just released the first video teaser of Galaxy Note 10 – may choose to skip a number for its next generation of top-of-the-line tablets.
Despite having announced the Galaxy Tab S5e earlier this year, by bringing intermediate hardware, the model can not be considered a direct successor to the Galaxy Tab S4.
However, the already-leaked SM-T860 and SM-T865 ( Geekbench- sighted model codes), because they have the Snapdragon 855 chipset – Qualcomm's current top line – would be the "true" successors,
The codes represent the Galaxy Tab S6's Wi-Fi and LTE variants, both with 6 GB of RAM and 128 GB of internal storage. As an operating system we will have, of course, the Android 9 Pie pre-installed from the factory.
Recommended: xCloud? Patent application shows Microsoft plans to control smartphones
According to information shared by the site GizChina, the alleged decision by the nomenclature could have been taken to avoid confusion between the Galaxy Tab S5e and the model to come.
By the way, it would not be Sammy's first time skipping a number – something similar happened when the manufacturer jumped from Galaxy Note 5 to Note 7, to conform to the Galaxy S line.