Google searches will gain increments soon, with the addition of video tags that will bring YouTube content from 'how-to' and tutorials when the user needs guidance or help. This feature, called 'In This Video', is being added to the Google app and brings quick access points to the selected content. Recently, the PC version has won icons in the Material Design style.
It is not clear, however, whether this function will go beyond institutional content in the video but the mere fact that content search has its number of clicks decreased, making the user's life easier already makes that feature important.
The current search configuration displays a list of videos, which can cause the user to spend time having to search through videos to find what they need. With the new feature, Google starts to display a short timeline with codes that let you instantly find what you want in each video.
Blue dots show where each step begins, although this feature is not available in all videos. Google may be bringing the bookmarks and associated timestamps of the descriptions to add the new feature to the selected videos.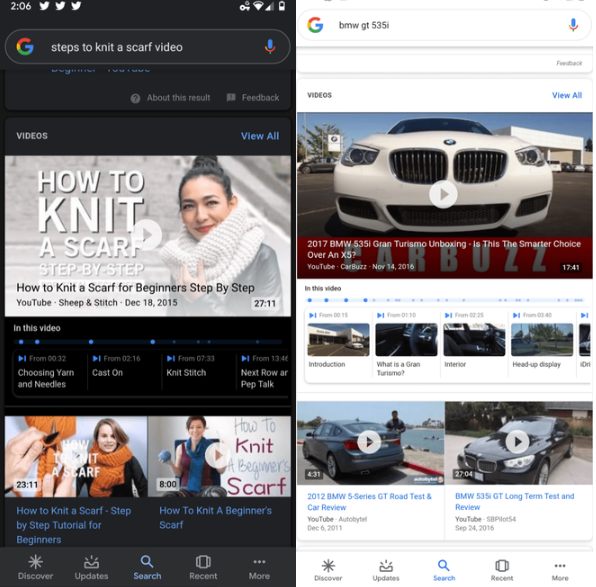 Google app search results are changed to make room for the next timeline in the content of each video, which will open up a new level of SEO for creators. One of the usability will be devices such as Smart Display, which will improve the user experience.
Recommended: Aqstic Family Rose! Qualcomm announces new audio codec for smartphones
According to Android Police, some users are seeing the feature in version 10.7.4.21 of the Google app – which brought dark mode and other improvements – the latest available beta. If the feature has already arrived for you, tell us your feedback experience.
Source: 9to5google.com