Now CorelDraw Graphics Suite 2019 is available for MacOS and it also brings a host of new features.
At a press event in Milan, Corel announced the launch of it's new CorelDraw Graphic Suite 2019 and also announced that the firm's graphic design package will be available on MacOS for the first time in 19 years.
In the event, Corel also introduces a cut-down version of the software called CorelDRAW.app. when you are away from your laptop or computer you can you any web browser and share graphics project through this app and it makes your work much easier from before.
CorelDraw Graphics Suite 2019 for Mac is available to buy now and it has a lot of different license and pricing option you can buy them according to your need.
CorelDraw returns to the Mac
CorelDraw was used to be available on MacOS and Mac OS X but Corel closed down this option with Mac in 2001 due to lack of demand and went to Windows-only.
A spokesperson said that the old Mac version of CorelDraw was ported from Windows rather than being designed with a Mac audience in mind. CorelDraw Graphics Suite 2019 for Mac the company said that it worked closely with Apple to follow Cupertino's Human Interface Guidelines.
Also Read: ThumbZilla For PC (Windows & MAC)
It has a full feature set that you get on Windows, you get a proper Mac interface including elements like MacOS Mojave's dark mode and support for the MacBook Touch bar. This shows by default options such as snapping, grids and zoom in the standard CorelDraw view. To switch to text formatting options and so on depending on the context.
New features of CorelDraw
There are some nice new elements in 2019 updated. Let me give you the detail about the new features of CorelDraw.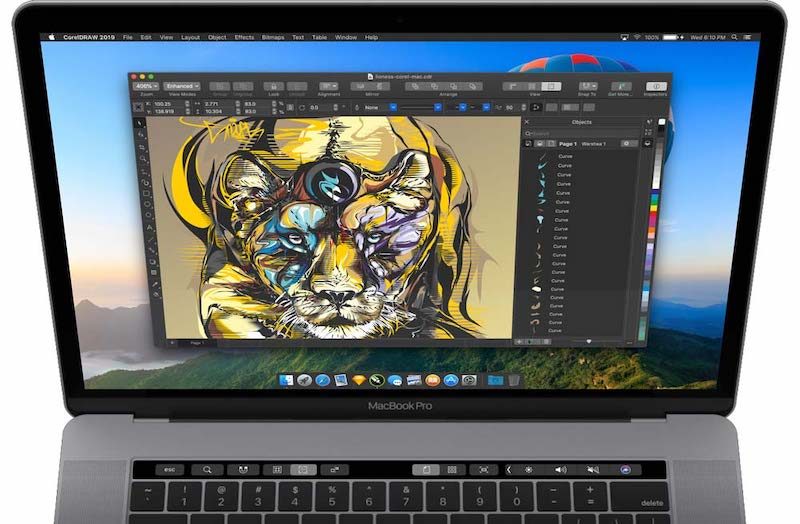 app
Pixel workflow
Object docker
Advances search, find and replace
Non-destructive effects stack