No, we aren't discussing Google presenting a systemwide Dark Mode in Android Q. No amount of LTE tower pinging, chatting on the phone, or some other usual presume with regards to wireless radio battery drain can influence your mileage as much as consistent Wi-Fi scanning for non-existent networks.
This thing is a giant power hoard, and you should execute it with fire if you have depleted all the usual culprits for your battery drain. Bonus points: of course Google tracks you even when Bluetooth and Wi-Fi are off, so if you dump scanning, you'll make it harder.
Type "Improve accuracy" in the settings' search box, at that point turn Wi-Fi and Bluetooth checking off. Type "Locating method" and switch it to "Phone only," if you have to keep GPS on at all times.
When playing Pokemon Go, navigating, or some other situation you need high accuracy for, turn it back on for the sesh if you are resolved to squeeze out each and every drop of your battery juice, but now Android manages the examining permissions pretty well itself.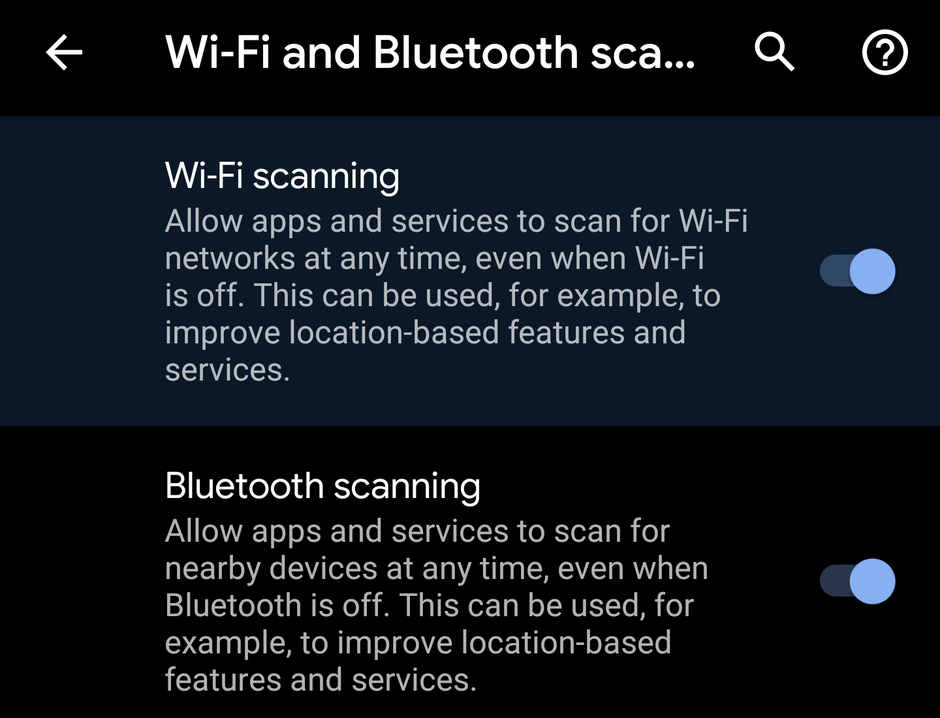 With Android Pie, Google definitely reduced the number of output attempts to one every 30 seconds for front applications, and one in 30 minutes for applications that are only sitting in the background. In spite of the objection from developers of indoor area or signal strength measurement apps, Google has decided that the scanning limitations will remain an essential part of Android Q:
Also Read:
Once again, thank you for submitting request. After catching up with our items and engineering teams, the request will not be considered right now. In Q, there is another developer option to flip the throttling off for nearby testing (Needs an established device).
While we feel frustrated for devs of apps that can be influenced, we can't wrong Google for choosing to put a conclusion to rogue Wi-Fi scanning that drains battery like insane and was one of the main culprits behind reserve power drains in past Android versions.