With the launch of the iPhone X, Apple dumped the physical home button to convey a bezel-less design befitting of the 10th anniversary of a standout amongst its most iconic product lines. Alongside the home button, in any case, Apple also ditched Touch ID, which depended on the fingerprint scanner housed in the home button on the iPhone. It was supplanted by Face ID, which the company painted as the future of biometric validation on portable devices, and is right now accessible on every iPhone from the X up, including the budget iPhone XR.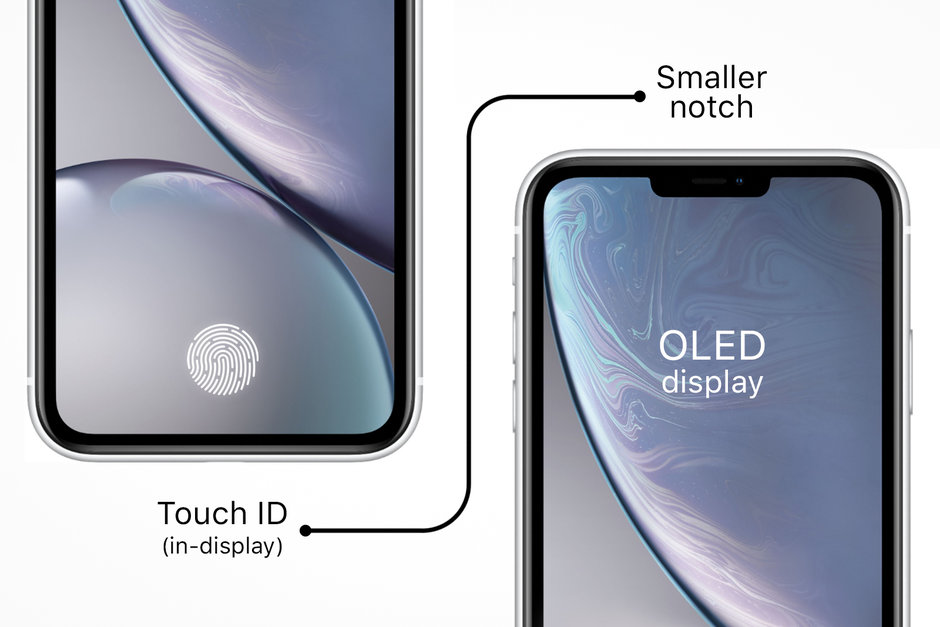 Numerous eyebrows were raised when Apple apparently turned its back on fingerprint scanners for good. The technology was simply entering a new stage with the presentation of in-display implementations, which we currently observe have gotten very quick, truly solid, and very popular. Apple,in any case, is not a company to easily backpedal on decisions like that, so it was broadly acknowledged that we won't be seeing an iPhone with a fingerprint scanner ever again.
Shockingly,, news broke today that Apple is really planning to release an iPhone model with an in-display fingerprint scanner. As per another report Apple is gearing to release an affordable iPhone with an in-display fingerprint scanner—which involves an OLED display. This is not very characteristic of the company, however, is a very fascinating advancement that could indicate a shift in how Apple does business abroad.
The new phone will reportedly expel Face ID, the facial acknowledgment framework for the iPhone, and rather employ an under-display fingerprint function, it was reported, refering to sources on the upstream industry supply chain. An industry insider revealed that this is probably to "save on costs."
A structured light laser producer, the significant component of Face ID, would cost a few hundred yuan, said a Beijing-based representative who preferred to be unknown. He told the Global Times on Monday that "no one but Apple can bear the cost of it yet that would also affect its sales."
The return of Touch ID?
The Global Times report proposes a few fascinating things, provided that it's exact. First off, it proposes that Apple has decided to go back to Touch ID for this specific model, because it is less expensive than the TrueDepth camera needed for 3D face recognition. On the other hand, an in-display fingerprint sensor requires an OLED display, so this  phone will have one, however, the current "budget" iPhone model, the XR, has an LCD display with Face ID. This is not entirely astounding, as Apple has been rumored to move far from LCD for good, starting next year.
Another curious assumption that we can draw from this report, is that this puzzling iPhone model may have a smaller notch. After all, Apple's support of the notch was that it housed the numerous sensors needed for 3D face scanning – something that won't be required on this phone. Furthermore, since it won't have a physical home button, it would be moderately safe to expect that it won't have big bezels either.
All in all, an as far as anyone knows reasonable iPhone with thin bezels, a smaller notch, an in-display fingerprint scanner, and an OLED display? That's what numerous people have been asking for, so it is rather unfortunate to hear that it may be selective to the Chinese market.