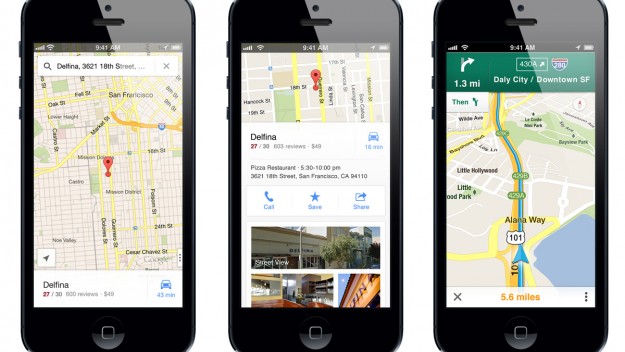 Maps, directions, Flyover, and apps based on location information depend on data services. These data services are subject to change and may not be available in all areas, which may result in maps, directions, Flyover views or location data not available, inaccurate or incomplete. In order to use some Maps functions, it is necessary to have the Location function activated.
To move through Maps, drag the screen. To look in another direction, rotate with two fingers. To return north, press the compass on the top right of the screen.
Zoom in or out: Double-tap with a finger to zoom in and press with two fingers to zoom out (or simply pinch and stretch). While using the zoom, the scale will appear in the upper left. To change the unit of distance used (miles or kilometers), go to Settings> Maps.
You can search for a location in many different ways:
Intersection ("eighth and market")
Area ("Greenwich Village")
Reference point ("Guggenheim")
Postal Code
Business ("cinemas", "Madrid restaurants", "apple Spain")
Also, if Maps guesses where you are going while you are entering a search, tap that location in the list below the search field.
Find the location of a contact or a recent or added search to favorites: Press The bookmark button.
Select the display: Press The Settings button and select Standard, Hybrid or Satellite.
Manually tag a location: Tap and hold the map until the bookmark appears.
That's all for the "How to Find Places in iPhone Using Maps", for more info look below at a few of our juicy articles.
More From Us: American Holiday Promotion: 9 iOS apps that are free for a limited time